Vix update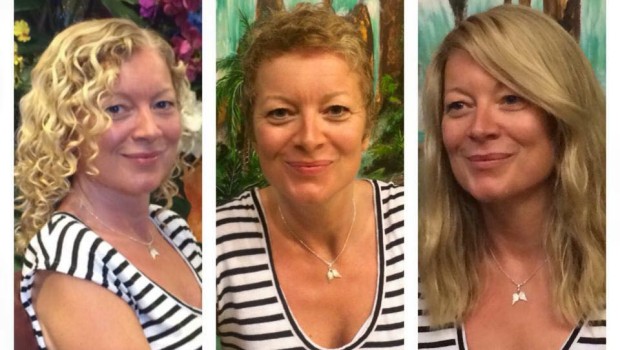 A wee update on my wonderful friend Vix for you.
A few days ago Vix parted ways with her iconic blonde ringlets in preparation for the likely loss of her hair from her chemo which started on Tuesday.
I think you'll agree she looks even more amazing now due to the fact that you can see more of her beautiful face. I'm also loving the straight hair wig which seems to have brought out a set of supermodel esque cheekbones! Hot stuff Vix.
When I lost my hair I simply looked like I had an alien head!:) not a sexy cheekbone in sight!
I know how much Vix was dreading losing her beautiful hair but in true Vix style she has done it with a smile and in full knowledge that all this horrific treatment is for the greater good.
Vix once said to me "but everyone knows me for my hair". Which is simply ridiculous as once you meet Vix you will quickly realise that there is a lot more to her than her hair. Constant hilarious chat being one of them! She's now loving her new temporary hair style which is great as it will make it super easy to get used to when it grows back.
Sadly, as in all battles, it's not just bad cells that take a fall but also the good ones and unfortunately hair is one of the good ones. The good thing about this though is that the good ones will bounce back whilst the bad ones will fester and become so scared of mighty Vix that they will cease to exist. Boom! Vix wins, cancer loses.
We are all thinking of you Vix and are thoughts awith all the other amazing people out there who are also fighting this awful disease.
Vix now has a wonderful blog to go with her Facebook page which you can find here :- http://www.fellowshipoftheringlets.com/?m=1
And on Facebook at https://m.facebook.com/groups/742411789184049?tsid=0.6124652184080333&source=typeahead
Just remember, hair or no hair, two boobs or none, you are still beautiful, you are still a woman and you are still the person we all fell in love with.
X