Mount Doom and the Tongariro National Park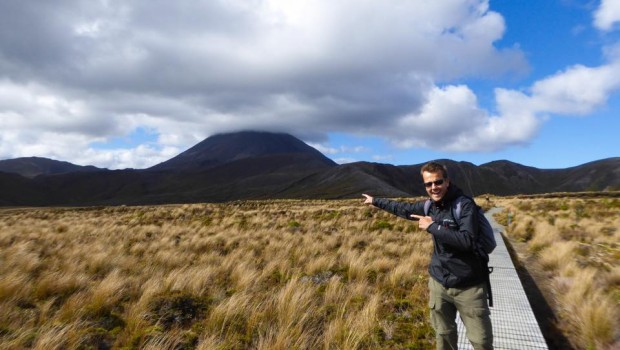 I must admit I hadn't even heard of the Tongariro National Park before arriving in New Zealand which now seems ridiculous considering it is the home of Sauron and Mount Doom in the Lord of the Rings movies. I've had to take back my 'geek' status!
This place is far from the dark and horrible place it is in the movies and as you will see it's pretty spectacular.
The Tongariro Alpine crossing is regarded as one of the best day walks in the world but unfortunately we were advised that due to dangerous winds we should avoid doing the Trek. A guy looking and sounding like John Malkovich looked over in Ruth's direction and said "small people have been known to have been swept off the mountain in such winds"! Ha! I found this very amusing and with that me and my hobbit like friend did an alternative trek called 'Tama Lakes Trek which as you'll see was absolutely stunning and by no means a second choice.
The Tongariro was New Zealand's very first national park and is home three Volcanoes including Mt Ngauruhoe which was used as Mount Doom in Lord of the Rings. This was clouded over for most of the day but just as we were leaving the clouds cleared and you could see the top. No eye of Sauron visible so my little hobbit friend was safe!:)
Everyone I had spoken to said that the Alpine Crossing was one of the highlights of their visit to NZ so I felt it was a must do. I had heard it was pretty difficult though and my legs haven't been the same since the Abel Tasman trek so I was a bit nervous about doing it. It's almost 20km the majority of which is uphill. It's probably a good job we didn't do it as I was exhausted doing what was apparently an easier trek.
Ruth headed home to Wellington the next day and I texted her to ask how she was feeling. She replied with "I feel like a 87 year old" which selfishly made me feel better.
It was great having Ruthie there to share this with. I found it hard but we had a right old laugh and even though she is a kiwi this was a first for her as well so we were both in absolute awe of how many beautiful places her country has.
I must admit though but this trek made me realise that I'm not sure I've ever known what it feels like to feel fit or even 'physically normal'. Ruth never seemed to get out of breath. Flo Flo was the same on the Abel Tasman and my brother wasn't even phased by Angel Ride. I however, am panting for dear life on these things. I can now see how frustrating it is when you are getting older and your mind tells you can do something but your body is saying the exact opposite.
I am sure that my body can do these thing but it's just being lazy! I might give it a little bit of a rest now though.
Anyhoo, "without the sour the sweet is never as sweet" and all that panting was worth every step of this 6 hour 19km trek. Yikes! Maybe do some training before adding these to your list tho! I promise you that Richmond Hill is much smaller!:)
X