About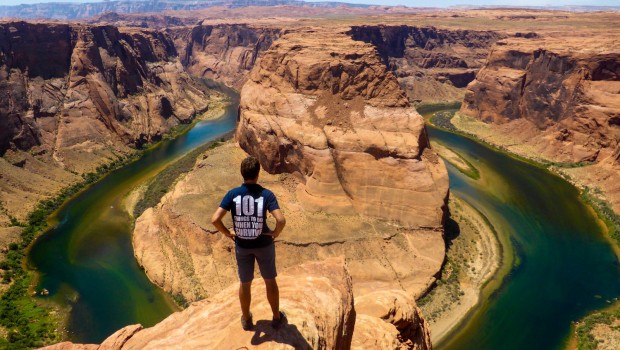 About 101

Welcome to 101 Things To Do When You Survive! A website and initiative aimed at spreading hope and inspiring people to live happy and fulfilling lives, no matter what their situation.
101 Things To Do When You Survive aims to share stories of inspirational people doing amazing things in amazing places. It aims to offer ideas of things people can look forward to doing now, or when their situation improves.
101 was founded by double cancer survivor Greig Trout who found that having things to look forward to, and proactively working towards them, was imperative to him surviving cancer and the psychological effects that came with it.

Greig originally started 101 as a way to make himself feel positive about his future, and to spread hope. He wanted to show others battling cancer that they could not only survive, but also thrive.
But as he travelled the world, Greig's blog and videos struck a chord with a much wider audience and grew into a global movement of people seeking positivity and enthusiasm for life.
With most books and travel journals being about 'things to do before you die' and 'bucket lists' Greig thought it was about time for some optimism. He wanted to inspire others to overcome whatever it was that might be holding them back by showing them what is waiting for them when they did.
101 Things is often featured in the national press, as Greig travels to some of the most beautiful places in the world to tick items off his list. From volcano boarding, to singing live from Sydney Opera House on national television, what this man has achieved is phenomenal and his passion for life is infectious.

In 2014 Greig was voted into the Independent on Sunday's 'Happy List' which comprises of the top 100 people in the UK that make life better for others.


Fundraising
By helping himself, Greig and the 101 Things To Do When You Survive community were able to help many others whilst also raising awareness and thousands of pounds for organisations like: The Leukaemia Foundation; Cancer Research UK; Cure Brain Cancer Foundation; Butterfly Children's Hospices; 52 Lives; Movember; The Hole in Wall Gang Camp; and Raleigh International.
Greig is now a proud Trustee of Immunotherapy support and research charity, Topic Of Cancer.
The plan is to inspire and help even more people!
Get involved
101 Things To Do When You Survive now wants to hear from you! To feature on the website and help inspire thousands of others with your story and cause, you can buy a 101 T-Shirt. Then, take a photo of yourself wearing the T-shirt either doing something that you've always wanted to do or something that simply makes you happy. Send us a blog and/or a pic of you doing your 'thing' in your 101 T-shirt and we'll post it online and you'll help inspire thousands of people! (If you can't afford a T-shirt, just make a sign saying '101' in big letters and hold it up in your picture!)
Not that you should need it, but the idea is to give you and your friends an excuse to do something you love or something you've always wanted to do. Get out there and seize the day gang!
We all have a story and we want to hear yours. See the Get Involved page to find out more details.
More about greig
101 Things To Do When You Survive was founded in 2013 by double cancer survivor Greig Trout. Having first been ill as a 7 year old child with a stage 4 Wilms tumour, Greig was again diagnosed as a 30 year old but this time with stage 2 bowel cancer.
It's fair to say that his diagnosis rocked his world and although he survived, the psychological effects of his worst fear coming true left their mark.
Surviving cancer wasn't the euphoric experience Greig thought it would be. Instead he was consumed by fear and spent much of his time thinking about cancer. This persistent fear which was later diagnosed as Post Traumatic Stress Disorder resulted in insomnia, eczema and severe anxiety. Worst of all though was that Greig hated himself for feeling this way. Nobody had told him that this was a normal reaction to have after surviving cancer.
Greig tried various forms of therapy but nothing seemed to ridhim of this constant fear that cancer would return to finish him off. The break up of his relationship was the last straw. He had become someone who even he didn't even like anymore and he wanted the old positive and fun loving Greig back.  
The following day he stopped taking anti depressants and decided to pursue a life long dream to travel around the world. Two weeks later he went for his two year check up. In the waiting room he found himself giving his seat up to those who clearly needed it more than him. He stood for the best part of an hour thinking how lucky he was that he was able to stand, having had numerous operations and treatments, Greig thought about how cool it would be to show others that there is life after cancer.
He then decided he would try and help others as he travelled, and created a website designed to raise awareness of PTSD, and to show others that there is life after cancer. Two months later he moved out of his flat, got rid of most of his possessions and moved in with his brother and his wife and started saving money and planning his trip. Soon after, he started sleeping again. His eczema cleared up, and he started to feel more optimistic and happy about life.
Greig felt better even before he set off on his trip and it was all because he not only had something to look forward to, but also because he was being proactive in changing his life. In the end, the trip was just a bonus. Before he even left the country he was already more than halfway to achieving the reason he was going away in the first place….to feel happy again!
It was amazing to see what effects the power of positive thought had on the body.
Throughout his travels, friends and supporters raised money for Greig to continue his journey. Some ran marathons, some had cake sales, some cycled long distances and some just donated money. The kindness Greig received was unbelievable and in 23 countries from Colombia to Cambodia he only ever experienced love, kindness and generosity.
The world is a beautiful place gang. Let's make life a happy and fulfilling one and help a few people along the way.  
X