Dolphins, Kaikoura and good people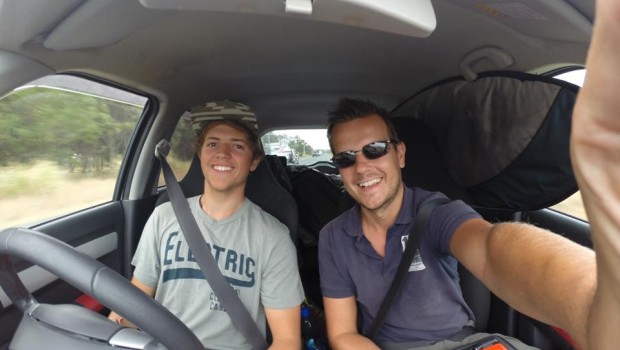 Thanks to the amazing Vicki Connerty I was able to fulfil a lifelong dream on Thursday and achieve Thing #45 on my list which was to swim with dolphins! Aaaaaahhh! Amazing!
When I left Wellington I jumped on the ferry to the South Island and got a bus to the beautiful little coastal town of Kaikoura. I stayed at a hostel which despite the £15 a night price tag (expensive in travellers terms) and the 30 minute walk from the bus stop turned out to be worth every penny and step. The view of the bay and the mountains was just incredible.
I had built this particular thing on my list up to be something truly amazing and then started to 'worry' that maybe I had hyped it up too much and it might be a bit rubbish. It wasn't!!! It was even more spectacular than I expected despite the crazy early morning wake up call of 4:30am!
The dusky Dolphins are known for their acrobatic skills and they just love to play. The boat found a small pod of around 50 and we all jumped out. The tour company I went with don't feed or entice the Dolphins in any way which I really liked. If the Dolphins want to play then they will play. If not then we get back in the boat and try and find some Dolphins that might be interested in hanging out with us.
We were told that the Dolphins love noises and bubbles. It was hilarious to hear everyone humming and bubbling through their snorkels trying to get the Dolphins attention.
The Dolphins loved us and swam around chasing each other and jumping out of the water. I couldn't believe how close they came up to me. Everywhere I looked their was a dolphin whizzing by so much so my video is all over the place as I was flinging the camera here there and everywhere. A seal even came over and joined the party.
After about 45 minutes we got out of the water and I was greeted with the dream drink…a steaming cup of hot chocolate, a ginger biscuit and the sound of 10 people throwing up into buckets because of sea sickness! More hot choccie for me then! It seems the sailing training I did in September paid off!:)
As we headed back to shore the two tour boats joined up and we were surrounded by around 300 Dolphins! It was the most incredible sight and one which I will never forget. Thank you so much to my beautiful friend Vicki for this wonderful birthday present.
Definitely one for your lists and one you can do with minimal fitness if you are recovering or unwell. Just watch out for the cold though. It was a bit chilly.
Good people
I met some great people whilst in Kaikoura. I got chatting to a Dutch guy called Lenny in the Queue for my bus to Kaikoura and we chatted all the way there. Lenny was on his way to start work on a dairy farm for 10 months. A Geordie girl who I swear I know. At the hostel we then met a young guy called Piers from California and an amazingly lovely girl from Switzerland called Linda. Piers is 18 and rocked up in Auckland, bought a motor bike and is now riding through the country. Both were such lovely people and we and hiked the coastal track in Kaikoura together (see pics). Lenny and Piers are the two guys that look like they've been photoshopped! Im the squidgy one in the hat!:)
That night I then met a guy called Will who was on his way to Christchurch to start Uni so he gave me a ride.
I first greeted all these people with handshakes but it was big hugs when it came to saying goodbye. I really love that about travelling. People just seem to have time for one another and you seem to connect far quicker than in any other time in your life. I'm going to try and adopt this travellers people approach when I get home so fingers crossed I don't just come across like a total weirdo!:)
X