World Cancer Day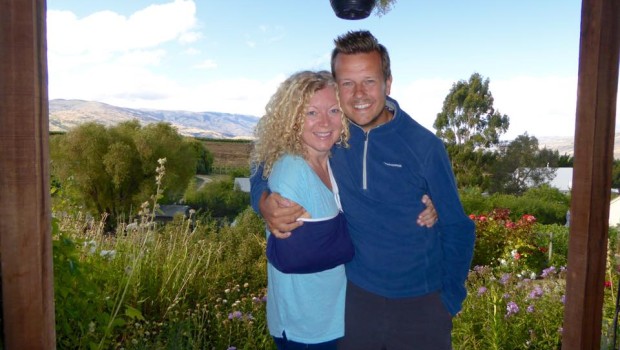 Look who just dropped in on World Cancer day!
My wonderful friend Vicki flew over from Sydney today to spend a few days hanging out with me on what by sheer coincidence has turned out to be World Cancer Day.
What are the chances that we chose this day to meet up. Vicki who has just had a lumpectomy and is soon to start chemo in her fight against breast cancer and me who has now whipped cancers ass on two occasions. It seems we were not only destined to meet in Sydney but also destined to meet again on World cancer day.
Vicki's operation was a success but she has now lost feeling and movement in her right arm. The nerves were damaged in the operation and the docs have said that it might be another few months until she regains any movement. She called her cancerous lump 'Lumpy' and her right arm is now known as 'Limpy'. Despite having to get used to only having the use of one arm and 6 months of chemo on the horizon Vix is in remarkably good form and has been making me chuckle all day long.
We spent this afternoon chatting about all things cancer, our fears, our hopes and how this horrible disease seems to bring out the best in people. Vicki has been overwhelmed by the support on her blog – The Fellowship of the Ringlets which I must say is both inspiring and hilarious.
There are lots of scary headlines in the news about cancer. I'm not going to go into them all but the main one is that 1 in 2 people are now believed to get cancer in their lifetime. 1 in 2!!!!!!! This makes me feel rather sick.
Vicki and I were talking about why certain people get cancer and others don't. We discussed nutrition, stress and age but we just don't know. I am of course all for better treatments for cancer as they are the reason I am still here today but I would rather not see people getting cancer at all.
There needs to be more done on the prevention of cancer. Why are we getting it and what can we do to help prevent it. More education is needed on diet, nutrition, exercise and stress management. If this doesn't happen then the next headline might just be 'everyone will get cancer in their lifetime'. Like everyone else on the planet I don't want that to happen!
There are so many great charity's out there doing wonderful things from research to support. All need our help but the charity I want to promote today is the Anthony Nolan trust.
For no money at all you can donate your stem cells which could go on to save someone's life.
Please register at the Anthony Nolan website and YOU could save someone's life! How amazing is that.
http://www.anthonynolan.org/8-ways-you-could-save-life/donate-your-stem-cells/apply-join-our-register
My love and well wishes to my friends Vicki, Victoria, to everyone who has fought or is fighting cancer and to anyone supporting someone with cancer. We Will beat this. Keep fighting and keep hope in your hearts.
X