Milford Sound, the most beautiful place on Earth?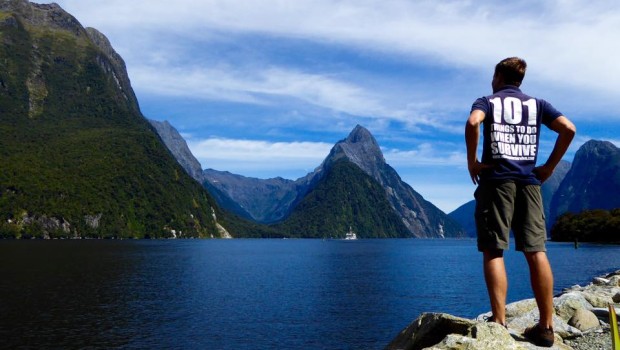 My energy is now back to full strength and I'm ready for the off tomorrow. First stop is the coastal town of Kaikoura for a date with some Dolphins!
I do believe things happen for reason and because of my food poisoning on New Year's Day myself, Ozen and Ruth had to cancel our trip to Milford Sound because I wasn't well enough to go. We instead went the following day which turned out to be an absolute blessing as the sun was shining and the sky was blue. It rains an average of 200 days a year in Milford Sound and the day we were originally meant to go was one of these rainy days.
Milford Sound is New Zealand's most popular tourist attraction and has been hailed as one of the most beautiful places on earth and the 8th Natural Wonder of the World. It is unbelievably beautiful, almost to the point when at times you think you're in some computer generated simulator. Mountains rise out of the water like prehistoric animals and your gaze can't help but catch one of the beautiful natural waterfall cascading down a mountain. There are seals and penguins as well as an underwater observatory where you can see just some for the amazing underwater sea life.
Milford Sound is actually a 'fiord' as it was formed by glaciers cutting their way through the rock over 1000's of years and not a 'Sound' which is actually a large ocean inlet or a narrow stretch of water in between two bodies of land (degree in geography gang….and in reading Wikipedia:). It is an incredible 400m deep in some places.
In order to make Milford Sound accessible to cars the 1.2km Homer tunnel was constructed right through the mountain and then a weaving road to Milford Sound.
Just like the Bolivian Salt flats it wasn't just the destination that was spectacular. The entire route from Queenstown to Milford Sound was mind blowing.
When we arrived we jumped on a 3 hour boat tour so you could definitely see this place if you weren't feeling 100% just like I did.
There is also the famous Milford Track which is a 4 day hike but unfortunately you need to book up to a year in advance for that one so I've missed out this time but it's a very good excuse to come back in the future! Anyone?:)
My words won't do this place justice so I will let the photos do the talking (he says after yet again writing the equivalent of War and Peace).
When I was there I declared that this was indeed the most beautiful place I had seen on my entire world trip so far. I've looked at my other photos since and I've seen some pretty spectacular places so I will simply say that this is definitely 'one' of the most beautiful places I've ever seen and that this is definitely one for your list!:)
Hope you enjoy these pics gang. South Island here I come again…..armed with Probitotics….and Imodium!:)
X