I did it! AngelRIDE 2014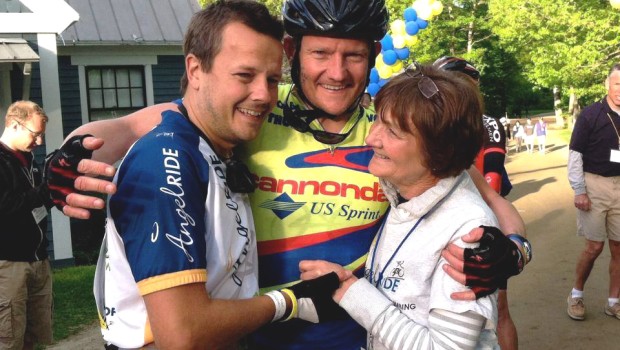 I visualised what it would feel like to be able to write this post when I was struggling up hills and trying to learn how to use the gears on my bike only last week. As I sit down to write this I still can't believe I've just ridden 140 miles in 2 days. A few years ago I couldn't even walk down the road.
I have so much I want to tell you all about the ride, the riders, the camp, the inspiring people I met and the fact that myself, my mum and my big bro were welcomed into a wonderful community with arms wide open. I may have to do this over a series posts though as I'm so tired right now and am struggling to think.
This has been the most difficult physical challenge I have ever achieved.
DAY 1 – 86 Miles
The first day was absolutely unbelievable. 86 miles of hills and endless roads. The final 5 miles seemed to go on forever but fortunately I couldn't actually feel my legs by the then so I just kept turning the pedals. I was out on the road for a total of 10 hours and 30 minutes in total. Yikes!
I made one rule for myself during this ride and that was to ride the entire way and I achieved it. I didn't walk up any of the hills, I may have stopped for a couple of minutes on some of them but I always got back on my bike and started peddling again.
My brother was the energy that I needed. He told me when to eat, when to drink and told me the whole way how proud he was of me. He kept me motivated and every time he saw my face drop looking at yet another steep hill and would tell me he believed in me and that I could do it.
I was the last person to finish. The organiser Lynn had told the motor support crew about me and the fact I wanted to finish no matter what. I knew I could do it but I also knew it would take me a wee bit longer than everyone else (for health and safety reasons there is usually a set time that riders are taken off the road). The head of the motor crew, a wonderful guy called Dan asked the other guys if some of them wouldn't mind staying out longer to make sure I finished ok. Dan nipped off to get petrol and when he came back he found every single one of the others riding along side me. Around 20 motor cycles and support vehicles all beeping their horns and flashing their lights. I felt like the president.
I was greeted at the Hole in the Wall Gang Camp on day one by 300 wonderful cheering people who welcomed me, my brother and a wonderful support rider called James over the line. Exhausted, overwhelmed and with my mum their to greet me I broke down crying in what was without doubt the most memorable day of my life. I was so happy.
DAY 2 – 54 Miles
With my legs still shaking from the day before I set off on Sunday to ride the remaining 54 miles. I was accompanied once agin by big brother, Barry and the wonderful guy called Andy who is the one who first emailed me to ask if I would consider riding in this wonderful event. Day 2 was a killer as my legs had gone but Barry and Andy kept me going and got me through to the finish.
There were three things that I thought about to keep me going when I was riding:-
The kids that this money we have raised will help.
Showing you guys that anything is possible after cancer, operations and blood clots.
Giving myself another reason to believe that cancer is no longer inside of me.
This experience has been the highlight of my trip so far. I feel immensely proud of myself that I completed the ride, I can't even describe how hard I found it but I kept going and imagining what it will feel like to finish. I feel so honoured to have been in the company of the wonderful people that take part in Angelride and all those that make it happen.
As for the Hole in Wall Gang Camp, I'll save that for another post but let me just say that this place changes the lives of seriously ill children for the better. It is a truly magical place.
Believe in getting better.
X
Thank you from the bottom of my heart to everyone who has sponsored me. $3570 raised so far. You'll be getting an email from me soon with a big fat Thank you and loads of kisses. I promise you that your money has gone towards the most wonderful cause. In July I'm going to show you first hand where your money has gone when I volunteer at the camp.
If you would still like to sponsor me then please see the link below:-
https://www.crowdrise.com/Greig-AngelRide2015/fundraiser/greigtrout
X