Adapt and overcome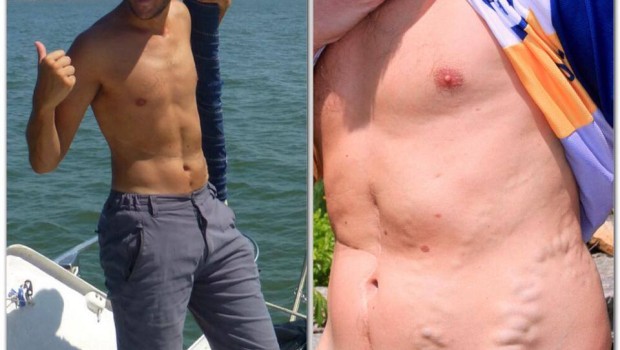 The photo on the left was the picture that was used by a lot of the newspapers when they reported my story last year. This picture always makes me smile now because there was talk on the internet of me being a fraud. Some people said I was an actor or a model because they'd 'never seen a cancer victim with a 6 pack before' I was actually quite flattered by being compared to a model. Little did they know that my six pack was actually a scar down the middle of my stomach. From a distance though maybe I could be an extra in the film 300! 🙂
The other side of my body is a different story. Some of you might wonder why I find all these treks and climbs so difficult. One of the main reasons is that my inferior vena cava (IVC) is blocked because of a blood clot. The IVC is the main vein that carries blood back to my heart from my lower body. I have to take blood thinning medication (warfarin) for the rest if my life. I've had this clot for 13 years now and it will never go. As a result it makes any type of physical exertion quite difficult but other than that I've never had a problem with it.
As you can see in the other picture these 'funny' looking veins on my left side are what now take blood back to my heart. My body did this all by itself. I've had no operations for this. My body needed another way to get the blood back to my heart so it used a different route and as a result it enlarged other veins to be able to the job. I struggle to any type of exertion as it takes blood longer to get back to my heart but I always get there in the end.
I must confess I thought twice about posting this picture. I know it's not particularly nice to look at and I went through most of my twenties disliking my body as I thought it looked ugly but then I realised that's it's actually pretty amazing and after all…it's helping keep me alive.
A principle I like to live by is 'adapt and overcome'. My body is the epitome of this principle. It's adapted to everything that it's been through, from the loss of my right kidney to the removal of part of my bowel. It adapted and overcame these changes.
These veins are no longer ugly or unattractive to me, they are amazing and it's an example of something that's had to adapt to a new situation in order to overcome it. From seeing what my body has done I now try to do this at every challenge I encounter. Adapt to the situation and then overcome it.
On Saturday I am GOING to ride a bike for 85 miles and on Sunday I'll ride another 50 miles, I've climbed volcanoes and I've lugged a heavy bag around the Americas for the past 11 months. The best thing of all though is that I can get out of bed in the morning and go for walk.
The reason I'm posting this is because I just had to fill out another medical form in order to complete my application to volunteer at the hole in the wall gang camp. I sound like a complete nightmare on paper but really I'm just like everyone else.
I want others to know that my body has been through some pretty extraordinary changes in its lifetime and if you are going through these changes as well then I want you to know…you're going to be ok!
If you aren't going through these things personally then maybe when you meet someone who has a blood clot or is about to get their kidney removed I hope after reading this you'll be able to tell them…'I know someone else who's been through that and he's doing just fine.
X
Thank you to all those who have sponsored me for what is without doubt the most physically challenging thing I've ever done in my life. When I hit those hills I will be thinking of all of you and and I will be thinking of all the ill children that the money you have donated will help. $2800 raised in two weeks. You are all wonderful. Thank you thank you thank you from the bottom of my heart.
X
Sponsorship link
https://www.crowdrise.com/Greig-AngelRide2015/fundraiser/greigtrout