The persuit of happiness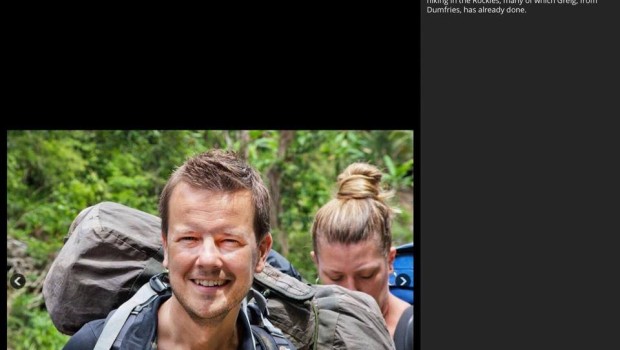 As those of you who have read my website or have joined me on my adventure over the past year will know I wasn't a very happy chappy a couple of years ago.
Gripped by thought of cancer returning (or never actually leaving), suffering from insomnia and caked in eczema I felt like the world was falling down around me. The limited future I saw for myself was ridden with illness and suffering. After months of therapy, anti depressants and eventually the break up of my relationship I knew the time had come for drastic measures. I could either change my life or live in a world of fear for the rest of whatever life I chose to give myself.
It was then that 101 Things to Do When You Survive was born. I made a list of cool stuff I always wanted to see and do and as I planned my trip I started to feel better. I slept, my skin cleared up and I found my smile. I was back to being Greig before I even left on my pursuit of happiness.
The thing is, travelling for such a long time is not really my thing. I love seeing all these wonderful things but I find when I get there the thing I enjoy the most is wondering what you guys will think when you see my pictures or watch my videos. How will it make you feel and most of all will you imagine yourself doing it in the 'future'.
Without you guys my trip would have ended about 6 months ago. I'm a homebody at heart, I like routine, believe it or not I'm an introvert and I love being around my family.
When I was riding this weekend, tired and in pain I thought about people experiencing illness seeing what I'd done and then believing they could do it too. That's what kept me going, especially on the Saturday when I rode 86 miles over a long 10hrs 30mins. That's why I had to finish, so I could show others that there is life after cancer.
People came up to me afterwards and told me how I'd inspired them by what I'd done. Some people who had never done the ride said they would have a go at the ride next year after seeing me do it. That was the best feeling of all because they saw a normal guy who on paper sounds like a medical nightmare do something extraordinary and then they believed they could do it too. Its the best feeling.
We are all searching for things that make us happy. I thought seeing the world would make me happy but it turns out that happiness for me is actually helping and inspiring others. This is what gives me that little excited butterfly feeling in my stomach. I didn't experience that feeling for a long time. I missed that feeling very much and I'm so grateful to have found it again.
That same guy who was once gripped by fear and sadness only 2 years ago has just been voted on to a 'Happy List'.
This is a list complied by the Independent on Sunday newspaper. A list made up of 100 people in the UK who 'make life better for others'. Founded as an antidote to all those rich lists and celebrity lists, it celebrates a different set of values, embracing those who start charities, help troubled youngsters, give huge amounts of time to volunteering and raising money, foster children, care for wildlife, and much more.
I don't often share any press on here but apart from feeling completely honoured, I wanted to use this to illustrate that there is a way out of a world of anxiety and depression. And please believe me when I say you don't need to travel the world to do this.
I can't emphasise enough that I am just a normal person who is not special in the slightest. If I can get through these physical and psychological battles then you can too. Just keep searching, keep fighting and in every sense of the term, never stop trying to get better.
Thank you so much to everyone who voted me onto this list alongside all these amazing people. I'm feeling ridiculously honoured and happy at this very moment which is the only moment that matters.
X
Link to article
http://www.independent.co.uk/news/people/news/independent-on-sundays-happy-list-2014-not-the-rich-list-the-full-list-of-people-who-make-life-better-for-others-9423410.html