Thing #66 – Hike through the wondrous Torres del Paine in Chile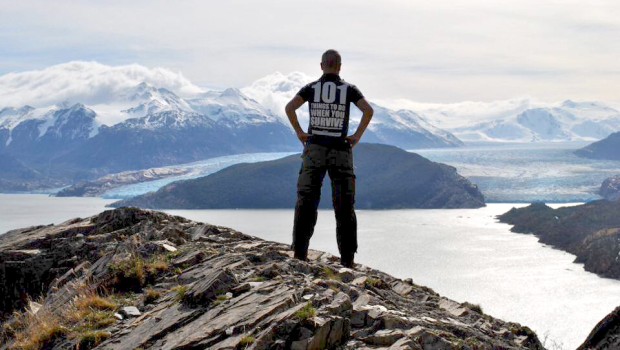 I've just got back from a 6 day hike to what I can only describe as one of the most amazing places I've ever been to. The Torres del Paine National Park is in Southern Patagonia in Chile is considered to be South America's best National Parks. I can't believe I hadn't heard of it before now.
This was without doubt the hardest thing I have ever done. For 6 six days my pal Ryan and I camped and trekked in the most diverse weather conditions I ever experienced. We trekked up to 14km a day in sunshine, rain, snow, 100km winds and slept in freezing cold conditions. Four seasons in 6 days.
As ever in these pictures I am smiling and looking like I'm having the most fabulous time but the truth is that I was cold, exhausted and my leg hurt like hell. Within an hour of starting the trek (called the 'W' trek) I had to offload most of the food I was carrying to Ryan as I couldn't even walk on the flats let alone up the hills. At night it was so cold I couldn't sleep and whilst walking the following day I would dream of a bed, a hot shower and a big comfy couch to collapse on!
I think by looking at these pictures you would agree that this was worth every second of those tough times. I saw glaciers, waterfalls, huge towering mountains, snow covered forests, green coloured lakes and landscapes that make you wonder if you are actually awake or in a beautiful dream.
I don't say this very often but I'm very proud of myself to have completed this trek. I am now into my 4th year of remission for bowel cancer and I have a blood clot which makes walking difficult but I did it!
If you've had treatment or an operation and feel like you will never your strength back, please please please believe me…. you will! No doubt about it. I felt exactly the same only two years ago and now I've just done this trek. You will be doing things like this soon, I promise you.
A massive thank you to Ryan for carrying the heavy stuff and taking some wonderful photos.
A new addition to my list and one I'm so grateful to have discovered. X