SUN, SKIN CANCER AND THE SECRET TO THE PERFECT TAN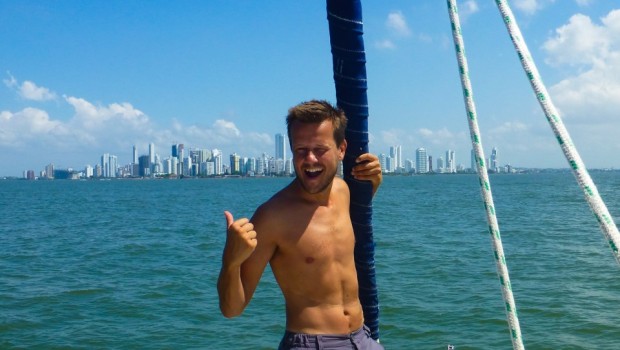 Summer is here and I can't even begin to tell you how happy this makes me. When the sun is shining I feel like I'm on top of the world. Much like Superman, the sun is my life force.
If I'm honest I also love having a bit of a tan…not for vanity reasons, but simply because when I have a tan people tell me I look well, which means a lot more to me these days. But a tan is definitely not a sign of good health. It's a sign that you've damaged your skin – UV rays can destroy cells, accelerate the ageing process and cause skin cancer.
Skin cancer is the most common type of cancer in Britain. Cases of malignant melanoma have increased by 360% since the 1970's. That's a scary statistic!
For my trip I pretty much followed the summer for two years, dodging either side of the equator and avoiding winter like the plague.
The first photo was taken was taken in the San Blas Islands on my way to Colombia and this was probably the most tanned I've ever been in my life. I'll tell you my non-deliberate tanning secret in a mo.
I recently visited the Mole Clinic in London for a skin cancer check up as I had a couple of dodgy looking moles and wondered what damage I may have done to my skin whilst showing off my scars on beaches around the world.
The nurse did a full body scan and, for some unknown reason, I decided to wear the smallest and loosest underpants I own so had to wrap my jumper around my nether regions, lest she be scarred for life (see pic).
It seems I have one potentially dodgy looking mole which the nurse photographed and sent for analysis. She believes that there is nothing to worry about but I was told to come back in three months to see if the mole had changed at all.
Athough the sun is amazing it is also pretty dangerous and contributes to 75% of the ageing process! Yikes! Ever wondered why your butt cheeks are so smooth? It's because they rarely see the sun.
The sun is also the main cause of skin cancer. Brits especially love nothing more than to bake ourselves in the sun, trying to get as brown as we possibly can. We go on holiday for a week and believe that the only way to get a tan is to not use suncream.
This is not the case! I am the master of accidental tanning and I can tell you now that the best way to get the perfect tan is…….. high factor suncream! No less the 30 SPF. Anything less than this is a waste of time. I have found that high factor suncream helps protect your skin and from my experience allows for a deeper more long lasting tan!
The sun is of course very important for our necessary intake of vitamin D but research shows that just 10 minutes in the early morning sun without sun cream is enough to get our recommended dosage.
So gang, ideally cover up when you're in the sun but if you're not going to do that…get your high factor suncream on, get regular checks and enjoy this beautiful sunshine.
X