AND THE NAME OF MY BIKE IS……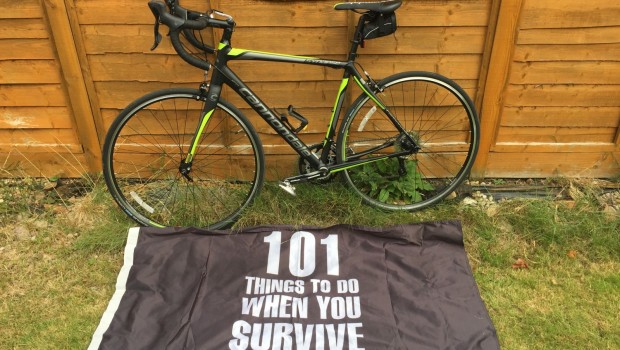 Firstly, a huge thank you to everyone who sent in suggestions for the name of my new bike. I absolutely loved hearing the reasons for the names you put forward.
At the weekend I took my lovely new bike out for a spin in the beautiful Richmond Park (one of my favourite places) and I thought about what to call it throughout the entire ride. The name 'Flash' was immediately eliminated after a little girl overtook me on a trike! Chris Froome I was not!
It had been a couple of years since I'd been on a bike but I absolutely loved it. The sun was shining, the deer were out in force and I didn't get a puncture! Result!
On Tuesday I plucked up the courage to cycle on the busy roads of Hampton to Bushy Park the so i'm slowly getting over my fear of cars…kind of… I'll have to keep working on that one.
So without further a do…..
There was one name in particular that popped up a few times in your suggestions that made total sense. 'Angel', the name of the event (Angelride) that inspired me to buy this bike and also one of the greatest experiences of my life.
A lovely woman called Sandra Holland then came up with the name 'Gabriel' and I thought YES! The archangel Gabriel and also the name of one my favourite songs 'Gabriel' by Lamb. If you haven't heard that song then please do check it out. One of the most beautiful songs you'll ever hear with lyrics that will make your heart melt.
So gang there we have it. The bike that I will use to cycle both the length of Britain and across the USA is called 'Gabriel' or 'Gabe' for short.
Thank you so much for the inspiration. Fingers crossed Gabe will also miraculously sprout a couple of wings to help me up those hills. Judging by this weeks performance, I think I'm going to need it!
X