Thing #15 – Watch the sunrise and sunset over Uluru (Ayers Rock)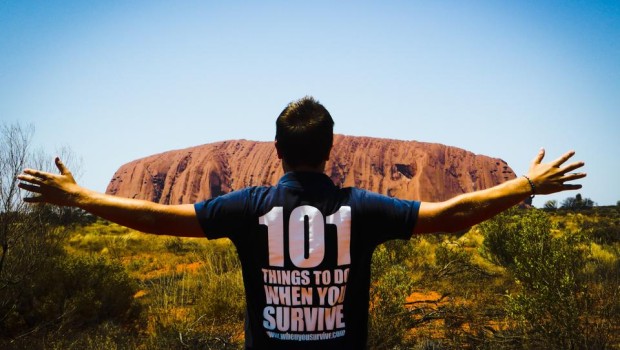 This has to be one of my most favourite things so far. Incredible group of people, amazing scenery and two of my most favourite things…a sunset and a sunrise.
I've wanted to visit Uluru for most of my life. I can't remember when I first heard of Uluru but it's been high up on my list for a long time.
I've seen lots of things now and occasionally some don't live up to the hype. Uluru and this tour was more than I dreamed it would be. Uluru is bigger than I thought it would be and even more beautiful. We took a walk around its base where Our guide told us about its formation and the culture and traditions of the site for the aboriginal people. It was a cloudy sunset so that amazing colour change that take place on Uluru didn't happen but watching the sun set over Kata Tjuta (the Olgas) was incredible. The huge dome mounds looked like they were on fire!
That night we had dinner cooked on the camp fire and one of the things I loved most about this experience was sleeping in a SWAG under the stars. A SWAG is a canvas sleeping bag with a soft thin mattress already fitted. It was the most amazing feeling to fall asleep with the warm wind of the outback surrounding me and then waking up to Orion high in the sky above me. A memory that I will stay with me forever.
Walking around Kata Tjuta was also a highlight. I had never heard of this place but we all loved around it. We all chose not to climb Uluru out of respect to the local Anangu people as this is a sacred site but the walk around kata Tjuta is well worth doing.
Formation
Uluru and Kata Tjuta were formed by way of deposition of limestone, sand and mud when the centre of Australia was a huge river over 500 million years ago.
The history of the place is just astonishing. The aboriginal people have lived here for thousands of years and Uluru is one of their most sacred sites. Uluru is actually grey in colour. The red outer colour is the iron minerals in the rock rusting due to oxidisation.
The Group
The group of people I was with were some of the loveliest people I have met so far. A guy called Sam was our guide was amazing. Funny, informative and he spoke with such passion when he told us about the aboriginal history you couldn't help being mesmerised by it. This is a good thing when you have an attention span of a nat!
Sam's mum is also a cancer survivor and he told me of her struggle emotionally post treatment. We had a lot in common.
I also met two other cancer survivors on this trip. Patricia from Madrid and Martin from Sweden (photo 4). Patricia had survived breast cancer and Martin from testicular cancer and again recently from a secondary cancer. Martin had just finished chemo a month ago and now he was doing one of the dream things on his bucket list, travelling around Australia for 6 weeks. What a legend! I could barley move after my treatment so this guy is an absolute machine! Their outlook on the future is absolutely amazing and they seem to have handled the psychological effects of cancer a lot better than I have. I learnt an awful lot talking to them both.
Martin does charity work for an organisation in Sweden called 'Ung cancer' (young cancer) and he gave me one of the bracelets that the charity sells which has the charities moto written on it which is 'F*#K CANCER'. I think we've all said that a few times! 🙂
The other people on the tour were some of the loveliest people I've met on my trip. A French girl called Anais who had the most beautiful accent ever, a Swiss woman called Esther who is so full of life it was addictive and who kept finding the things that I lost. There were also Brits, Germans, an Aussie and of course some Dutch people who seem to travel absolutely everywhere. It was like a mini EU meeting.
A wonderful experience and one of my favourite things so far. I still can't believe I've seen Uluru.
A huge thank you to Wayoutback, Sam and the group for this wonderful experience. This tour company took us away from the other tour groups and crowds to more isolated places for both sunset and sunrise which helped make this an even more special experience.
http://www.wayoutback.com.au/
Definitely one to add to your list!
X