Thing #72 – Ride 'The Ghan' in Australia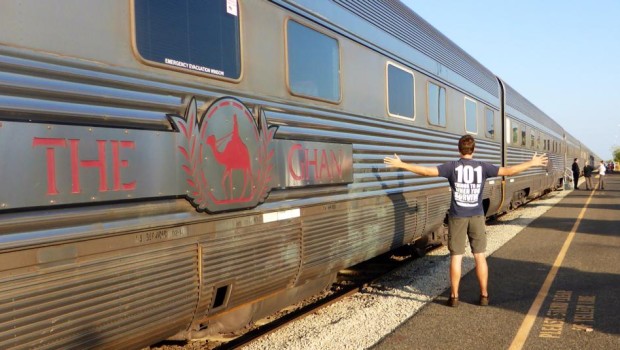 Trains, sunsets and amazing people
My earliest memory of being on a train was when my mum and I visited my Uncle Crawford. I must have been about 6 or 7 years old. I don't remember much before I was ill but I distinctly remember the train pulling away and my Uncle Crawford crying as he waved us off.
The only thing I know about trains is that I love being on them. I love everything about it. The sound as it chugs along, the motion as it stutters over the rails and being able to lose myself in the scenery as it flys by.
I first heard about the Ghan when I decided to go on this trip. I always wanted to do one of the world's epic train journeys. Most people have heard of the trans-siberian express but not many people outside of OZ would have heard of the Ghan. I was one of them. I discovered it whilst reading a 'bucket list' about epic journeys…a term I tend not to use.
History
In the 1800s the new explorers attempted to explore the vastness of Australia and would often embark on expeditions using horses and donkeys. These animals could not handle the heat and didn't last very long. A solution to the problem was to import a load of camels from other countries. Many believed that all the cameleers were from Afghanistan and were there fore known as 'Ghans'. They were actually from many different countries such as Egypt, Turkey and Persia. The camels were solid and could not only cope with the heat but could also carry up to 1/2 ton in weight.
These guys were imperative to the construction in the building of the rail line and so it was named 'The Ghan'.
The train is huge. Nearly 800m in length. Over 250 passengers and it runs all the way from the north to the south of Australia and vise versa.
The Journey
My journey journey took a little over 24 hours from the north of Australia in Darwin, right though to its heart in Alice Springs with a 3 hour stop over in Katherine where I did a boat cruise through Nitmiluk gorge on the Katherine River which was absolutely stunning. We then got off the boat for a tour of some original aboriginal cave art with some being 8000 years old! Wow! It makes you realise how short a time we are actually on this earth for when you see things like that.
There were many things I loved about this trip. The last time I travelled on a journey with all the bells and whistles was the Galapagos cruise I did last November. It was amazing. My own cabin, a three course lunch, three course dinner and a hearty breakfast. I felt like Prince William….but with more hair. Believe me this was an absolute novelty for me on this trip and I loved every second of it.
But as ever the best thing about my Ghan experience was the sunset, the sunrise and the people I met. I watched the sunset over the outback listening to Ben Howard (as per usual) lost in a world of happy and grateful thoughts. As ever I couldn't believe I was doing this.
I met some incredible people on this journey. A German girl called Martina who was travelling around Australia on her own. I hope she doesn't mind me telling you this but Martina has multiple sclerosis. She tells me she has good days and bad days but she's determined to keep living her life to the full and not let it affect her. What an amazing woman.
At breakfast myself and Martina were sat with an Australian couple on their 26th wedding anniversary. We got chatting and Katherine and Peter told us about their son Michael who was involved in a mountain bike accident last year. Michael is now paralysed from the abdomen down and the life he once knew was turned upside down . Michael has been through some very low times since the accident and has felt very lost but has now found a new life through music which is now becoming his career.
Meeting Martina, Katherine and Peter made me appreciate my Ghan experience even more than I did already. The world is filled with remarkable people on their own amazing journey and I feel honoured to keep meeting these people.
So the Ghan is apparently something to put on your 'bucket list' but I think it's something that should be put on both your 'survivors' list and your NOW list!
A huge thank you to Great Southern Railways, Martina, Katherine and Peter for an amazing experience.
http://www.greatsouthernrail.com.au/
Next stop…..Uluru!!!
X