Beautiful broome and the stunning kimberley coast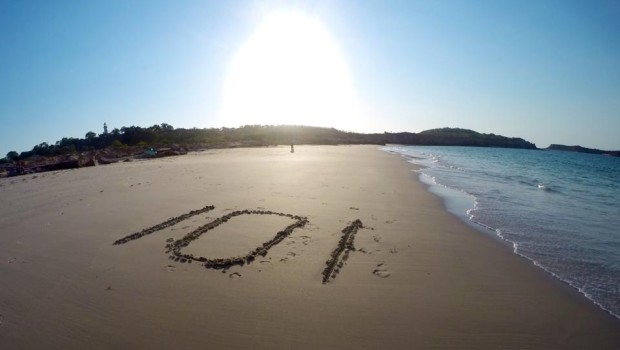 Sunshine, sand, sunsets and what could possibly be the best camping spot ever! What a start to my Australian adventure.
I got off the plane in Broome and was immediately whisked away up the coast by my good friend Katherine for a camping trip hence the lack of updates this week. I first met Katherine when we both volunteered for Raleigh International last year so it was great to see her again. She now lives in Broome, works here as a doctor and is one of the loveliest people you could hope to meet so I'm in good hands. Although, when I wrote '101' in the sand for the first photo, Kat came over, looked at it with a confusing look on her face and asked "why have you written LOL?". I haven't stopped teasing her about it since.
The trip
We first drove up to a place called Middle Lagoon which was beautiful. To get there you need to have a 4WD truck as the roads are just dirt and sand. The campsite was about 50 yards away from the beach and we spent a couple of days just relaxing, swimming in the ocean and catching up. The photo of the solitary umbrella on the beach is about as busy as it got there. It was just amazing as the beach was perfect in every way. The water and the sand reminded me of the beautiful San Blas Islands in Panama. I couldn't believe how quiet it was.
At night we set up a fire and chatted over a couple of cold ginger beers. It was absolute bliss.
We then drove further north to a place called Cape Leveque where we stayed in what I can only describe as the most amazing camp site ever. I've stayed in some amazing places on my trip so far with the cottage I stayed at in upstate New York coming very close to my dream home. I've always said that my idea of a dream home would be the caravan on the beach that Mel Gibson's character has in the film Lethal Weapon. I always thought this was the most idyllic place for a home, right next to the ocean.
The place we stayed at in Cape Leveque is called Kooljaman and they have little wood shelters literally right on the rocks next to the beach where you can camp in (see photos after the solitary umbrella photo). It was incredible waking up and falling asleep to the sound of the ocean and being able to walk just a few steps onto the beach. I've never stayed in such a place.
These beaches were also very quiet so you feel like you are on some kind of beautiful tropical island.
Needless to say I've totally fallen in love with Western Australia and I've only seen a tiny part of it so far.
I'm now back in the town of Broome which has the most beautiful sunsets ever. Seeing the sunset over the ocean has to be one of the most incredible things ever. Its so beautiful it's hard to believe its real. I've tried to keep my sunset pics to a minimum in this album but I have a ridiculous amount more on my camera. Sunsets are still my most favourite thing.
On the rocks by the ocean there are Dinosaur footprints which are another reminder of just how amazing our world actually is.
I've now decided to stay in Broome for one more week as some of you told me about something called the 'Staircase to the Moon'. This is where the full moon rises from the ocean's horizon and the reflection from the mud flats resemble stairs leading up to it. I've got to see this for myself. The next full moon is on Thursday so I'm going to stick around for that and also go see the amazing Horizontal Falls on Tuesday.
As I sit here writing this update and choosing which photos to share with you I once again feel like I am in a dream world. I questioned whether or not I should come here before I left and now I am so glad I did. What an amazingly beautiful place.
X