I'm coming home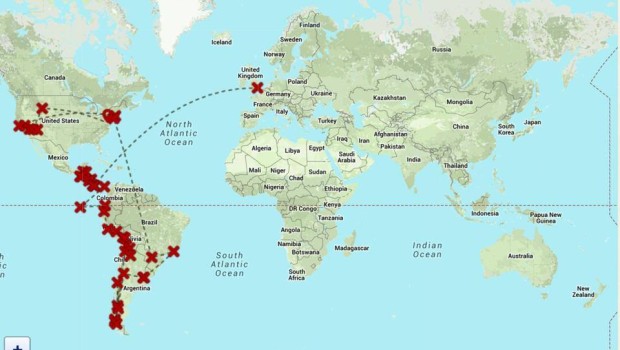 …but just for a short while
On the 29th July, after 13 months and 12 days on the road I will be heading back to the UK for a month or so.
My plan was to be away for the entire two years I gave myself to travel but I have had the honour of being asked to be the best man at my friend's wedding and also to be the godfather to two wonderful children. I can't pass these things up and there is nothing that would give me more joy than to stand by my best friend on his wedding day and to tell Eleanor and Hattie in person that I'll always be there for them whenever they need me.
Since I've been gone my group of friends have had six children between them. That's six kids in the gang that I've never met. I was fortunate enough to see my mum and brother when they came over to support me during Angelride but I haven't given my dad a hug in over a year now. I miss my family and my friends terribly and to keep on travelling without stopping would be to miss out on those life affirming experiences that money can't buy.
So the plan is to come home and spend some good quality time with my mum and dad, try and be funny in my best man's speech and hold some babies without dropping them! 🙂
It will also be lovely to have a rest. I can imagine you might think this has been one big holiday for me which if I'm honest is what I thought it would be as well!:) The truth is I'm absolutely exhausted now. The endless moving on, bus rides, packing and re-packing every two or three days, meeting new people every day and not to mention the treks and carrying a big back pack around. It all definitely takes out of you.
I've already organised hospital appointments to have a quick once over and make sure everything is working as it should be. Although I feel great, sometimes its also nice to have a doctor to tell you that all is looking good. This will also mean I get to have my four year all clear in the hospital that saved my life.
The future of 101 things
I also want to have some time to have a real sit down and plan the next year of my trip. I want to get in touch with more cancer charities abroad and organise volunteer work and also set myself new challenges which will help raise money and awareness for various charities. My greatest joy from the last year has been the charity work I've done and I want to see if I can now take that to the next level and achieve my dream of becoming a professional fundraiser.
I have got some great things in the pipeline but not confirmed yet so I'll tell you all when I know for sure.
I want 101 Things to Do When You Survive to be something that encapsulates everything that survivorship stands for. I want people to know that the there is a way through the dark times and that the night really is darkest just before the dawn. If we can also raise some money and awareness for a few charities along the way then life is very good indeed!
I will be setting off again in mid September and my first stop will be the beautiful land down under… Australia!
My tour of the Americas will end with a weeks volunteering at the amazing Hole In The Wall Gang Camp next week which I can't wait to experience and tell you wonderful people all about it.
Canada, I will be back for you one day!
X