AngelRide, an experience of a lifetime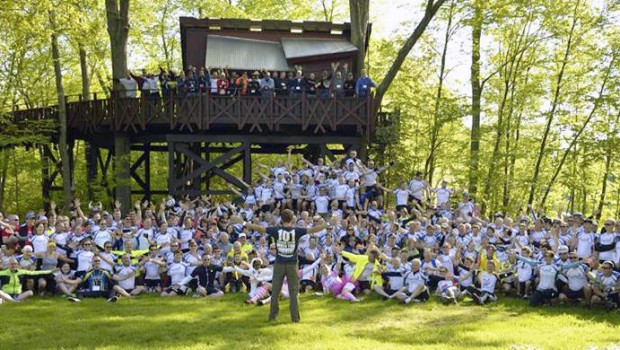 …and the people who made it happen
As my time to volunteer at the Hole in the Wall camp approaches I suddenly realised I hadn't shared any of the pictures of what turned out to be the most wonderful experience of my life.
I rode 140 miles in 2 days across the state of Connecticut which was the most physically demanding thing I've ever achieved. For years I've thought of myself as weak and unfit but at the finish on Sunday evening I dispelled those beliefs for good and for the first time ever, I felt invincible. I rode next to my hero, my big brother Barry and had the woman who's gotten me through everything life has throne at me waiting for me at the finish line, my wonderful mum, Phyllis.
These are a few of my pictures of Angelride and of some the wonderful people I met in the days leading up to and during the ride.
The second picture is of the amazing people that made it all possible for me to be there.
The guy on the left is a guy called Andy Heeps. I'd never met Andy before but he saw my story over Christmas when it hit the press and emailed me to ask if I'd consider participating in Angelride. At the time I was receiving 100's of messages but Andy's really stood out. He told me about a bike ride which was the most inspirational experience he'd ever had and then described the amazing cause it raises money for. The cause was for the Hole in the Wall gang camp. A camp and hospital outreach programme for serious ill children. He wrote so passionately that I immediately said yes not really thinking about it. I told him I couldn't do it this year but maybe sometime in the future.
For months Andy pretty much chased me around South America sending me emails with pictures of the bike he was building for me to ride and how he was looking forward to riding with me. The guy was relentless!
Andy kept emailing me and it suddenly dawned on me that I probably wouldn't be able to the ride next year either as I would most likely be in Asia then. I emailed Andy that perhaps I would do it in 2016 instead and that way I could train for it as well. Andy emailed back and told me that once I took part in this ride I would be returning every year.
I was in Argentina at the time with about a month to go until the 2014 ride and and I emailed him and said "I know I haven't trained or ever ridden a bike like this but what if I came this year and did the ride instead"?
With that Andy got in touch with Lynn (also pictured) the organiser. Possibly the loveliest person you could ever hope to meet and they found me a place to stay. I booked a last minute flight from Brazil to the US. Lynn got me all my equipment and was constantly checking to see how I was feeling, even warning me not to push myself as many people don't finish the ride. She and her wonderful partner Fred (who is iron man by the way) introduced me to Brian and Chaleen who let me (a stranger) stay at their house for almost 10 days to train and get used to…riding a bike!:) With that I had gained an entire new family.
I was even given the number 101 as my riding number!
I have so much I want to say about all of them but I'll save that for my book. Andy, Lynn, Fred, Chaleen and Brian (third picture) invited me into their lives and I've never looked back.
I remember hovering over the 'purchase' button when booking my flight to the states debating whether it was a good idea to leave South America for a bike ride. It was without doubt one of the best decisions I've ever made. I wanted to do this trip so that I could breathe deeply again, to get my heart racing with excitement, to smile and to meet people that touch your heart in a way that you wonder how you ever managed to survive without them in your life. I got all that from following my heart and taking part in Angelride.
A huge thank you
Thanks to you (the 101 gang) 101 Things to Do When You Survive was able to raise $4880 for the Hole in the Wall Gang Camp in just a few weeks. Every time I received an email from donations company informing me about a new donation it was like winning the lottery. Thanks to you seriously ill children will get a chance to smile, feel normal and experience happiness again.
Thank you all so much for believing in me and this wonderful cause.
X
I try not to put too many pictures in my albums but with this one I just couldn't help myself. To view all the pics (39 in total) please click into the album at the top of the post.
Lynn has extended the time period for donations so if you'd still like to sponsor me and donate to the Hole in the Wall gang camp then please see the following link:-
https://www.crowdrise.com/Greig-AngelRide2015/fundraiser/greigtrout