A very warm welcome to connecticut, my first training ride and a message from Bear Grylls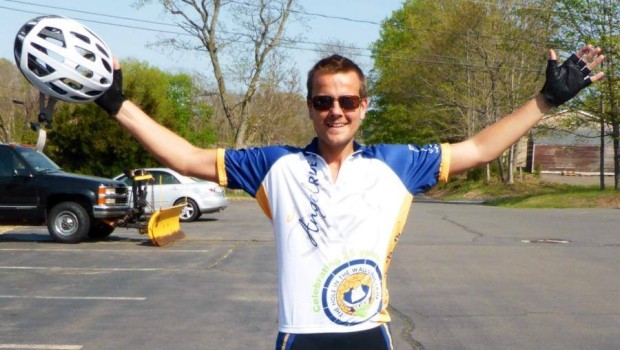 I arrived in Connecticut yesterday to an unbelievable welcome. I have to say I have never experienced anything like this before in my life. These kind people have built me a bike to use, donated equipment and a wonderful family have even given me their daughter's beautiful apartment to use up until the big ride.
I still can't quite believe it and find myself looking around to see who they have made all this fuss for. Such generous welcoming people and I am so honoured to be here and ride and raise money for this wonderful cause.
I went on my first training ride today on my new bike. I certainly looked the part in all my kit but was completely petrified of how tough I might find it. I went on two rides and managed around 20 miles in total. Add another 60 miles to that and I have the first day of Angelride sorted! Yikes! The good news is I only fell off my bike once! 🙂 oops!
To add to this amazing experience I woke up this morning to the most wonderful emails from two of my heroes, my childhood doctor Prof. Alan Craft and Bear Grylls. They had heard what I was doing and wanted to wish me luck for the ride.
Bear wrote –
"Well done Greig- an epic mission and for an amazing cause- you are a man who has battled to overcome great adversity and I am sure you will conquer this challenge too! You are an inspiration."
I am feeling blessed and humbled at this very moment. I hope I don't let anyone down and can complete what is my biggest challenge yet.
Whatever happens, I will never forget this experience and I'm so happy to be here and raise money which will help seriously ill children smile and feel better.
Thank you to all you amazing people that have already sponsored me. I am so grateful for your support. A massive thank you to Lynn, Andy, Fred, Chaleen and Brian for making me feel so welcome.
If you'd like to sponsor me please see the link below:-
https://www.crowdrise.com/Greig-AngelRide2015/fundraiser/greigtrout
X