FUN, SUNSHINE AND HOPE AT RELAY FOR LIFE, SHETLAND
I first experienced the wonderful spectacle that is Relay for Life when I was asked to speak at the survivors' lunch when I was in Sydney in 2014. It turned out to be one of my most favourite days. When you consider that when in Australia I ticked things off my list such as learning to surf, watching the sunset over Uluru and singing at the Sydney Opera House, it says quite a lot about just how special this particular event was.
Relay for Life Shetland was no exception. This weekend over 1300 people took to the track in Lerwick and helped raise over £127,000 for Cancer Research UK.. This is exceptional for any event but to be raised by a small group of islands with a population of just 23,000 people makes it even more incredible.
My Shetland experience started on the plane from Edinburgh where I got chatting to a lovely woman called Margaret. Margaret is a Shetlander born and bred and we chatted the entire way to these magical islands. In true traveller style we shared our life stories before actually finding out each others names. This chance meeting which Margaret believed was fate set the tone for the entire weekend and every single person I met was so warm and welcoming.
The Shetland Relay for Life is the biggest in Europe and only happens once every two years. Since it began in 2006, it has now raised over one million pounds for Cancer Research UK.
The committee chair for Shetland Relay for Life (probably the loveliest guy you could ever hope to meet and with the best beard ever) told me that it is the strong sense of community that makes it so special. Everyone knows one another and therefore knows someone who has been touched by cancer. So they are determined to do all they can to support their friends and help beat this awful disease.
THE BIG DAY AND NIGHT
Relay day started with a day gala where games and stalls lined the track and families from local towns and villages took full advantage of the blazing sunshine and blue skies. I even had shorts and my 101 shirt on so it must have been warm! I think working in the BBQ tent kept me in my shorts on a wee bit longer.
At 7pm the relayers arrived and I quickly transformed from summer gear into my winter gear and survivors shirt before giving a speech to over 100 Shetland cancer survivors. I also had the pleasure of meeting Wilma who was celebrating 50 years of being all clear. Wilma told me that when she was diagnosed with breast cancer 50 years ago there was no chemotherapy so she had to have a radical mastectomy and radiotherapy. Such a lovely and amazing woman who said she was so grateful to still be here.
Seeing over 1300 people then take to the track has to be one of the most incredible sights I've ever seen. People dressed in viking costumes and fancy dress all there to walk through the night in their relay teams and show cancer that hope is well and truly etched in the Shetland psyche.
In-between the amazing performance from the choir I then had the honour of giving a speech to the 1300 wonderful relayers at the beautiful and poignant Candle of Hope Ceremony. I spoke about my experience with cancer and the power of hope.
This ceremony is a way of celebrating those who have survived this awful disease and to remember those we have lost. I hope I did it justice. Relayers then walked around the track which is lined with beautifully decorated candle bags which are dedicated to those we have lost and to those still fighting. It is an incredible and emotional sight to see and once again a reminder of just how fortunate I am to still be here.
Relayers walked through the night taking it turns to hit the track before the closing ceremony at 07:30am where the committee unveiled the mind blowing fundraising total.
Meeting Martin and his wonderful fellow committee members who all devote their own time to making this event happen was pure joy for me. My trip around the world was so special because of the people I met along the way rather than things I ticked off my list. In Shetland I was once again blown away by just how kind and generous people are.
Everything you see in these photos from food to tents and chairs were all donated by local companies meaning that all money raised went to Cancer Research UK in the fight against cancer.
Huge congratulations to Martin and the Shetland Committee for their truly remarkable achievement and thank you for asking me to be part of something so special. Special thanks to Simon, Louise and Michelle from Cancer Research UK who helped make this all possible.
I've met a fair few people from CRUK now and I can safely say that they have the most incredible people working for them.
X
I am still looking for more team members for Team 101 for the Ascot Relay for Life on July 16th so please get in touch if you fancy having the most wonderful hope filled weekend.
THE EAST HERTS CRUK VENETIAN MASQUERADE BALL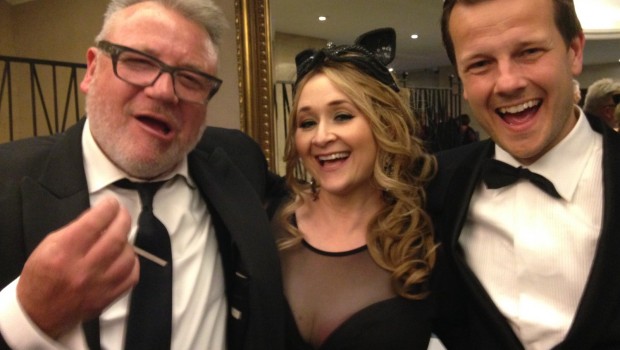 On Saturday the 14th May  I had the immense honour of co hosting and presenting at the CRUK Venetian Masquerade Ball in London.
Huge congratulations to the East Herts CRUK committee for putting on such a spectacular and memorable event. The night was packed with performances from legends galore from Ray Lewis from the Drifters to watching superstar actor Ray Winstone host the best and funniest live auctions ever.
My inspirational co-host, Rowena Kincaid and I were overwhelmed by the reception we received when sharing our stories and to receive standing ovations was
Myself and my family and friends were so honoured to be there and the amount of money raised for the ground breaking work of Cancer Research UK was absolutely mind blowing. Over 60K and counting!
Raising money by having fun! Love it!
All profits will be going to the revolutionary Francis Crick Institute which is about to make history and help the world beat this awful disease.
Hope to see you all there next year!
X
HAPPY WORLD CANCER DAY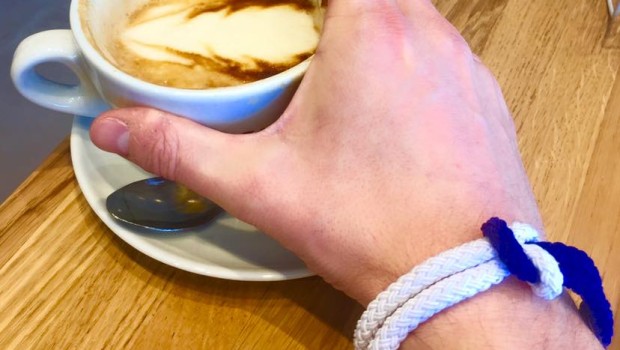 HAPPY WORLD CANCER DAY
I'm not going to lie when I say I hate the word cancer. It fills me with thoughts of suffering, pain and worst of all fear. Considering I've had 29 years to get used to it since first being diagnosed at age 7, hearing that word hasn't gotten any easier.
But when I think about one of the many reasons I shared my story in the first place, I am reminded of that wonderful little thing called hope. I shared my story to show others that cancer can be beaten and that there is a joy filled and fulfilling life after cancer.
Survival rates of cancer are on the increase gang. More people are surviving than ever before. Thanks to new research, new treatments, improved surgical techniques, early diagnosis, better nutrition, psychological support and more hopeful and inspiring success stories to boost people's inner belief, we are beating cancer into the ground.
I sit here today on World Cancer Day as a two time survivor with some of my bowel missing, one kidney, a blocked main vein and a few mental scars but all things considered, I am in pretty good health. Even when in remission for bowel cancer I managed to travel around the world for two years. The body is an amazing thing.
I know people who have incurable cancer who are still here years after their diagnosis and living life to the full. They show others that there is also life during cancer.
Cancer isn't the guaranteed death sentence it once was once thought to be and when I think of current survival rates and what I've been through personally it fills me with hope and optimism for the future. There is still a lot of work to do especially on the likes brain and pancreatic cancer but we are on the right track.
This blog was all about doing fun things and enjoying life again. Not just for people affected by cancer but for everyone.
Today on World Cancer Day I treated myself to one of my favourite things in life….having a coffee in a coffee shop. It's a simple thing but one I am very grateful that I can still do and enjoy. I also took time to remember the friends I have lost to this awful disease. I promise you all to live the best life I possibly can.
I hope you all managed to pick up a unity band from CRUK, Anthony Nolan, Breast Cancer Care or Movember and I hope you are having a great day today doing something that you enjoy in life.
Love and thoughts to all those who are currently fighting this awful disease. Keep fighting and never stop believing.
I woke up to this wonderful message today which I think sums up what today is all about. Thank you from the bottom of my heart for this Kate. You made my day.
X
'Hello you wonderful guy. I just wanted to send a message and say that I am thinking of you, more so today than on other days.. I am thinking of your past struggles and how you have seriously kicked c's behind. You are strong, a fighter, a giver, a hope-carrier…and i am damn proud to know you.
I am also thinking of Vicky and Row…may Vicky find her direction and may Row stay strong-willed and strong-minded but above all positive, goodness knows she has enough reason not to.
For all of those you and I know and/or have heard of, who have fought and won, or fought so bravely but sadly lost…you are all amazing and in my thoughts.
All of you are so amazing and you Greig, you have made me a little less frightened of what might be one day, a little stronger-minded with regards to fighting. Life is for the living. I hope you hold your head up high, stick your middle finger up at C, take a huge deep breath and have a great day.
With love and bear hugs. xxxx'
X