VISUALISATION AND THE 101 POSE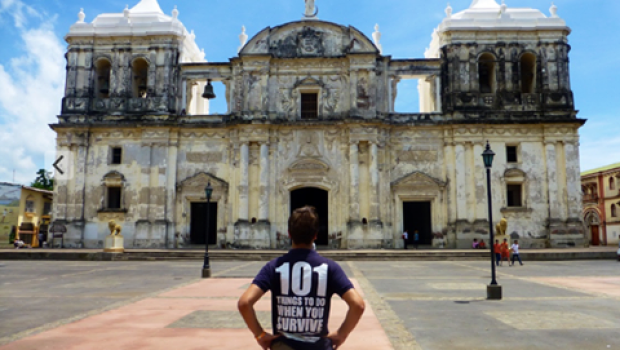 I spent last night trawling through just some of the many thousands of photos I've taken over the past few years when I stumbled upon this little beauty.
This was the very first 101 photo I ever took. My friend Gemma was taking a pic of me in front of the stunning Cathedral of Leon in Nicaragua when she suggested I turn around to get the 101 logo in the shot instead.
And with that, the 101 pose was born.
I'm going to be sharing some of the classic 101 shots over the next few months which I hope will give you inspiration for possible future destinations but also encourage you to get out there and take your own 101 pics!
101 t-shirts are now on sale so pick one up via the website and get out there and do something you love.
It doesn't matter what it is, just as long as it helps you feel good! Send in a pic and we'll plaster it all over 101 to inspire others.
VISUALISATION
Just visualising being in a place can evoke all the same sensations as actually being there.
Having things to look forward to helped me get over my own mental darkness during my worst time with PTSD.
Research has shown that when we visualise ourselves being somewhere or succeeding in something, it releases that feel-good chemical, dopamine, in the brain which can often be the first step in alleviating the symptoms of anxiety or depression.
So when you look at these photos or make a list, visualise yourself being there and I guarantee it will help light you up inside.
Happy visualising gang!
x