Media and Speaking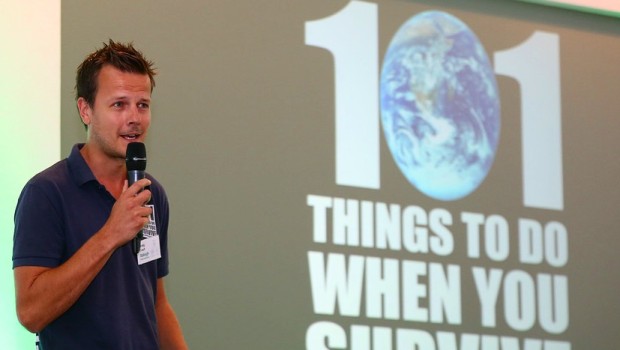 Speaking
Greig is regularly invited to speak at events all over the world. His incredible story has inspired hundreds of thousands of people. Greig has not only overcome the physical and psychological effects of cancer twice, but turned it around into a life full of adventure and happiness that shows anything is possible.
Greig's relevance goes far beyond those who have been through serious illness – he draws on his experiences and adventures to inspire all of us to live an authentic life, to overcome adversity, and to help others along the way.
Greig is available for corporate speaking engagements, and is also often invited speak at schools and charity events.
Please see Showreel below for a sample of Greig in action.
"Greig was the final speaker during our annual fundraising conference and we were completely unprepared for the rollercoaster journey he led us through, sharing some of his most challenging life experiences alongside witty and human anecdotes from his adventures to date. Greig is incredibly charismatic and a wonderfully natural speaker who instinctively seems to know when to lighten the mood and when to take you to the edge of tears. We left the session re-energised and utterly inspired!"   

Claire Young, Fundraising Manager, RSPCA

'We invited Greig to speak at our annual primary care conference in June where he was an absolute inspiration and given a much deserved standing ovation from an audience of GPs, consultants, practice nurses and Macmillan colleagues. He recounted his cancer experience from childhood into adulthood and did so without sentimentality, yet the insight gained into the devastating toll cancer and its treatment can have, not only the physical but the emotional and psychological impact , touched everyone in the room. From the moment he stepped – or rather leapt – on to the stage, Greig radiated energy and optimism and it became clear how he was able to turn his experience into a force for change in his life and the lives of others. His amazing journey spanning the globe not only raised awareness but also showed how he confronted his own personal demons. As clinicians, it's so important to understand the cancer experience of our patients, Greig's talk did that in a powerful way. He also showed he wasn't defined by cancer but, rather, used it to start his own journey of self discovery.'

Dr Rosie Loftus, Chief Medical Officer, Macmillan

"When Greig came to speak to us at Channel 4, I was expecting to leave in tears. I couldn't have been more wrong, while harrowing, Greig's story is uplifting, encouraging and exhilarating! You hear him speak and think "I can do this, You can do this…WE can do this". He's an inextinguishable light."
Beth Arzy, EA to Director of Audience Technologies & Insight, Channel 4

Download Greig's brochure – Corporate Talks
Download Greig's brochure – School Talks
Greig in the Press
Greig's adventures have been extensively featured in local and national press, inspiring people wherever he goes. This is a small selection of the press coverage he has received.

TV Appearances
The Today Show, Australia

ITV London News, UK
http://vimeo.com/102239855
ITV National News, UK
http://www.itv.com/news/update/2014-09-22/action-need…hance/
Weather Channel, USA
http://www.weather.com/travel/cancer-survivor-travels-w…0107
Newspaper articles
The Huffington Post, UK
http://www.huffingtonpost.co.uk/2015/07/31/greig-trout-101-things-to-do-when-you-survive-cancer_n_7905512.html
The Australian, Australia
http://www.theaustralian.com.au/news/cancer-survivor-greig-trout-du…dffab
The Telegraph, UK
http://www.telegraph.co.uk/sponsored/health/beat-cancer/11034…rout.html