AND THE WINNERS ARE….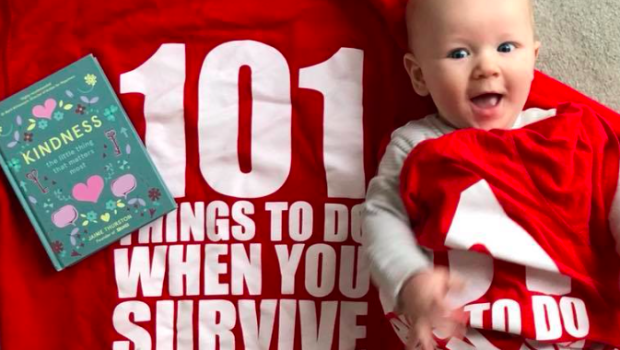 Thank you so much to everyone who took part in the Christmas caption challenge.
Jaime and I had a good old laugh reading through them all and you definitely put smiles on our faces. I'm sure Princess Anne would love them too!
Congratulations to Myra and Sabrina for their winning captions and also to my old school pal Gareth for his contribution. His entry was far to filthy to win but it did make us laugh….a lot. Book on its way to you buddy!
The winners will receive a 101 T- Shirt or hoodie of their choice and a signed copy of the greatest book ever written – Kindness – 'the little thing that matters most'.
Baby Trout not included!
😉
For those who missed out the T-Shirts are available to buy via the 101 website and Jaime's book is available on Amazon
https://www.amazon.co.uk/Kindness-Little-Thing…/…/000825284X
and in all leading book stockists!
Enjoy and I look forward to seeing your 101 photos!
X
THE WORLD'S BIGGEST COFFEE MORNING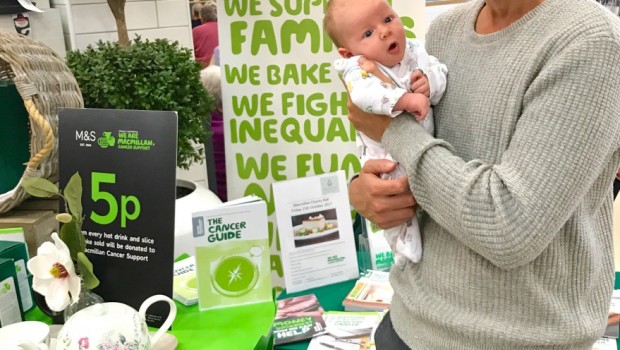 Introducing little man to the amazing work of Macmillan Cancer Support at our local Marks and Spencer's.
5p from every hot drink and cake goes to Macmillan! Love it!
The Macmillan Worlds biggest coffee morning is today and you can find your nearest coffee morning here :-
https://coffee.macmillan.org.uk/about/search/
Support is very much part of the cure for cancer and this wonderful charity supports thousands of people on a daily basis.
Have fun and eat cake!
X
KINDNESS – the little thing that matters most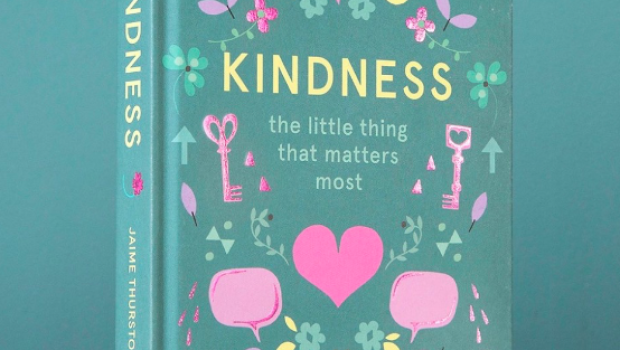 It's HERE!!
I am so proud of my beautiful girl who has written the most inspiring and life changing book.
Packed with 52 suggestions of kind acts we can adopt on a daily basis to help us live in a kinder and more loving world.
Each suggestion is backed up with real life case studies from 52 Lives and proven science showing us why kindness is good not only for others but also for ourselves.
Kindness really is the most important thing we can be in life. As you can see little man already has his copy and we all popped out today to see if it was in any of the shops! It was! Aaaahhhh! It's so surreal to see it on the shelves.
It really is a wonderfully written book which I know will inspire and bring out the best in anyone who reads it.
Kindness – the little things that matters most is out now and is available on Amazon and all good book stockists.
X
NOAH GETS HIS WHEELS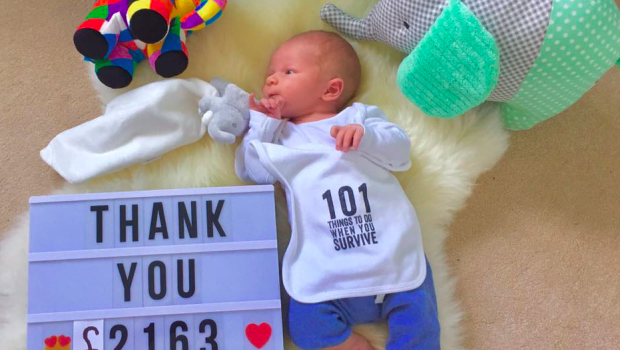 A couple of weeks ago, I asked for your help to buy a wheelchair for Noah in lieu of gifts for our new baby boy. So this little guy wanted to say a huge thank you to everyone who helped buy Noah that life changing wheelchair.
We needed £1500 to add to the money Butterfly Children's Hospice had already raised and thanks to all of you and the amazing community at 52 Lives we raised an astonishing £2163…..in just over 24hours. Absolutely Amazing!
100% of that goes straight to buying Noah his wheelchair and the rest will go to helping the other children at Butterfly Children's hospices.
I recognised so many 101 names on the donation page and we can't thank you enough.
This is without doubt the best birthday present Joseph could have wished for.
I hope we can take him to China one day to meet his buddy Noah and the rest of the butterflies. It is a truly wonderful charity that helps sick and abandoned children have the love and support that they deserve.
Much love and thanks gang. You are wonderful and I am so incredibly proud to be part of this community.
X
Noah's wheelchair is being fitted as I type and I'll share a pic of him and his new wheels very soon!
HELPING NOAH
Some you may remember that towards the end of my trip I spent some time at the incredible Butterfly Children's Hospice in China.
This wonderful charity cares for abandoned and sick children and thanks to the help of you guys and 52 Lives we were able to help buy two of the children specialist wheelchairs which has completely transformed their lives.
Some of you have kindly offered to buy things for my baby son who will hopefully be born this week (He's a stubborn little thing).
We have everything we could ever possibly need in the world and I wondered if instead, you wouldn't mind donating that money or any spare you have to help buy this beautiful little boy his wheelchair.
Noah was just baby when I met him and I must admit I was slightly taken a back when I first saw him but then totally fell in love with him.
He sadly has a condition which doesn't allow fluid to drain from his brain and as a result his head is a lot larger and heavier than that of a normal child's. He was abandoned as a baby and now he is taken care of by the amazing nurses at Butterfly.
He can't sit up and therefore can't be taken outside and struggles to interact with his friends.
He is such a beautiful boy and I remember how he loved to grab my hands and play with the stubble on my face.
Noah is now 4 and the Butterfly Hospice has raised half of the funds needed to buy his wheelchair.
52 Lives is now helping raise the remaining £1500 and I thought the 101 gang might be able to help reach our target.
Like Matilda and Edmund a specialist wheelchair will transform Noah's life. He will be able to go outside, sit up and interact with the world around him and no longer have to spend his days laying on the floor looking up at the ceiling.
As with all of the lives helped by 52 Lives – 100% of what you give goes straight to helping buy his wheelchair.
If you can spare anything at all we would be so incredibly grateful and even if you can't just liking or sharing this post will help it pop up on someones screen who may be able to help.
Thanks so much gang.
Much love.
You can donate here – https://52-lives.charitycheckout.co.uk/life145
X
SURPRISING THE AMAZING OLIVER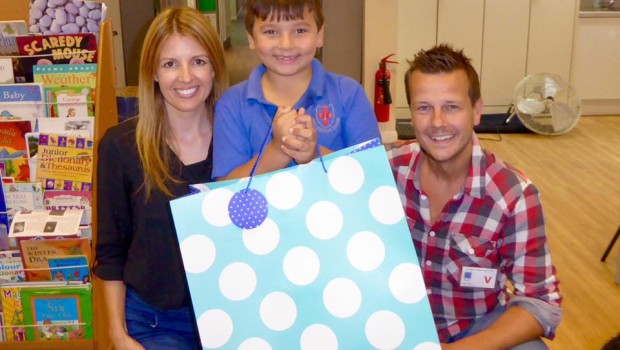 Jaime and I surprised a little boy at his School so we could drop off a whole load of kindness courtesy of Winsley School in Bath.
Oliver is 6 years old and has been donating his super duper bone marrow and T-cells to his sister Evie who has Hodgkins Lymphoma.
As we all know it's not just the person with cancer who struggles but also those around them.
Oliver has been through so much and has only ever wanted his big sister to be well again.
Oliver is Life no. 2 of the 52 Lives​ School Kindness Project and the children at Winsley School made cards, wrote beautiful letters and made video messages telling Oliver just how brave and kind they think he is. They also heard that Oliver liked going to the cinema so used the remainder of their cake sale money to buy cinema tickets for Oliver and his family.
We can confirm that Oliver is every bit the legend we thought he was and it was so lovely to see his reaction to receiving such kind gifts. His little screech at receiving the cinema voucher was especially awesome!:)
To see the video Winsley school made for Oliver and also see Oliver's reaction when we surprised him at his school click here; – Winsley School's message for Oliver
Turn off the news people, the world is filled with kind and wonderful people!
X
ONE YEAR AGO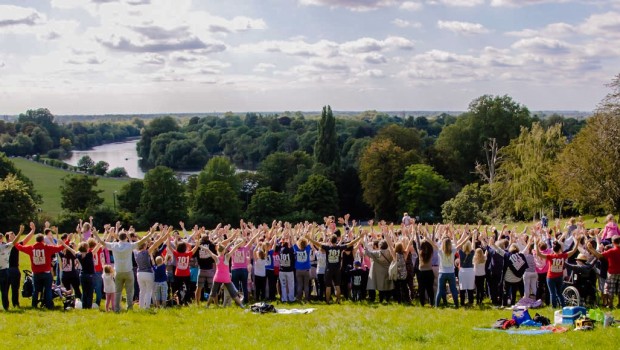 One year ago today 200 of the 101 gang stood on Richmond Hill and celebrated life. One of the most surreal and incredible days of my life.
5 years before this photo was taken I was sitting in a doctors office having my world turned upside down by being told I had cancer again.
Over the 5 years that followed I survived cancer, created a website and initiative designed to spread hope, travelled the world for two years and thanks to you guys raised awareness and thousands of pounds for various charities around the world.
I would never have dreamed of doing such things 5 years previously, but I wished I had. It would have saved on a number of sleepless nights that's for sure.
It can be hard to speak of hope when two friends have recently been taken by this awful disease, but it is always there, and it is a truly wonderful thing.
I believe we owe it to those we have lost to live the fullest and happiest lives we possibly can. Otherwise what's the point in living at all.
Thank you all so much once again for being part of this little journey with me. I will never fully be able to describe just how much it has meant to me.
Wishing you all health and happiness for the future.
X
PURPLE BALL TICKETS ARE ON SALE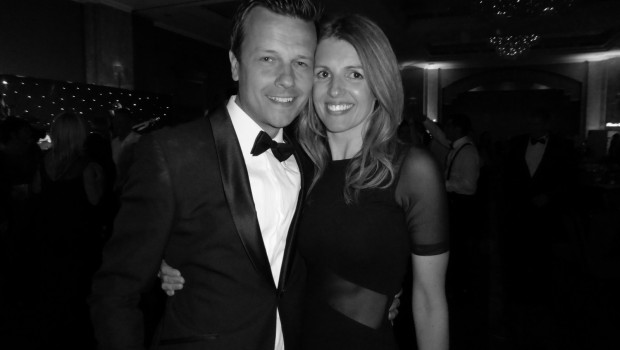 Purple Ball tickets are now on sale! Join us for a night of live music, auctions, west end stars and fun fun fun!
I am a proud trustee of this wonderful charity which raises money for research into ground breaking immunotherapy and also provides much needed emotional support for those affected by cancer.
For £65 you'll get a three course meal, a glass of bubbles, half a bottle of wine, west end star Colin Roy wowing everyone with his beautiful voice and much much more.
I would love to see some of your smiling faces there on the 24th September! See flyer on how to buy tickets.
X
NEW BIKE, NEW CHALLENGE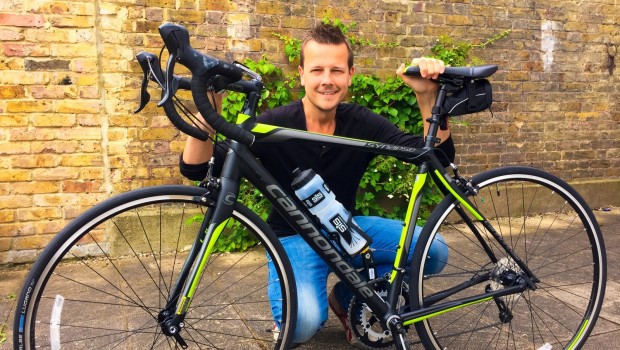 Ladies and gents, please meet the newest member of the 101 gang…..my brand spanking new bike!
I need some ideas of what to call it so please let me know of any suggestions you have? A good bike should have a name!
Those of you who have followed my adventure for the past few years will know that in 2014 I took part in a charity bike ride in the states called AngelRide. It was the first and, up to now, the only time I had ever been on a road bike.
I fell in love with cycling and Angelride turned out to be the most incredible experience of my life.
I have sworn ever since that I would get my own bike and also added a couple of cycling challenges to my list, one being to cycle from John O'Groats to Lands End, which I hope to complete next year. The other is to cycle across the USA….date still to be announced for that puppy!
I had hoped to complete John O'Groats to Lands End (the length of Britain) this year but my fitness and motivation took a bit of a knock this so I decided against it until I had adequate time to train for it. Especially when Andy, the team leader for Team 101 in the USA presents me with a map of what he thinks we should do! Yikes! We may have to modify those timings a wee bit Andy……or a lot!;). My haematology doctor may have a fit if she saw that!
Anyone who watched my interview on the BBC this week will know there are a couple of little physical issues caused by my life saving treatment as a child that make my idea of normal slightly different to that of others.
The main ones are the blood clot I have in the vein that takes blood back to my heart and the others are scarred lungs from radiotherapy and a bit of an aged heart caused by the chemo.
The good news is…. I visited Bristol Royal Infirmary last week and had myself a little MOT to see how the old lung and heart are doing.
An Echocardiogram and a lung function test showed that they are a wee bit under the normal scale but that there was nothing to worry about. It also seems that these little issues can be massively be improved upon with regular exercise! I also met my vascular surgeon on Tuesday who pretty much said go for it and then suggested doing a triathlon! 🙂 Love it!
So gang, I am going to be on an adventure of fitness and cycling for the next 9 months which I plan on sharing with you as a bit of a rehabilitation research. This will also include info on nutrition, rest and coping with fatigue…something I struggle with after exercise.
Due to my messed up circulation system I struggle to run as blood can't get back to my heart quick enough so my leg swells up and I get dizzy, but cycling is low impact which means it's perfect for someone with a deep blood clot like mine. I wont lie -i'm super scared of riding on roads but hopefully I'll get over this with a bit of practice.
So hear goes, I'll be taking her out and about for the first time this weekend so i'll let you know how I get on.
A huge thank you to Sales Filter, insurancewith and Snow and Rock for becoming sponsors of Team 101. I can't thank you guys enough.
The plan is to achieve something incredible, raise a lot of awareness for all things cancer and mental health related, inspire lots of people and hopefully raise a bit of cash for charity.
Let the riding and fitness extravaganza begin!
X
WHAT'S ON YOUR LIST?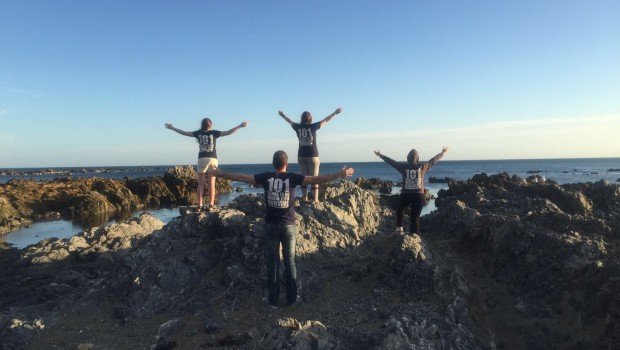 WHAT'S ON YOUR LIST?
Firstly gang, a huge thank you to everyone who has bought a 101 T-Shirt or Hoodie so far. Thanks to you, we raised a remarkable £1820 for the Cure Brain Cancer Foundation in memory of a beautiful little girl called Claire who sadly lost her life to this awful disease. I was absolutely overwhelmed with the response and can't thank you enough.
As wonderful as it was raising this money for such a wonderful cause, that was the not main objective of getting the 101 T-Shirts out there.
The grand plan is to use the 101 T-Shirts as a very much unneeded excuse to get you guys out there ticking off your own 'to do' lists, taking cool photos with your 101 tops on and perhaps sharing your stories to help inspire others.
I have received a good few blogs and photos from some of you, which I'll be sharing very soon, starting with the amazing Vicki Connerty who I had the pleasure of accompanying on a 10 day road trip of the mighty Scotland. As you'll read, this is a place that should be on everyone's lists.
Some of you sent in photos of yourselves wearing your T-Shirts which was wonderful, however the plan is to get you out there doing the things you love – it might be something on your to do list or might just be something you love doing and that makes you happy.
I, like so many, only decided to follow my dreams after recovering from cancer for the SECOND time no less. I was so fortunate to have been given a third chance at life which allowed me to really go out there and do the things I've always wanted to do.
We shouldn't need any excuse to do the things that make us happy so get out there and have some fun and share your experience with us.
A new 101 T-Shirt campaign will be starting very shortly for those who haven't got one yet but for those who have got them, please stop wearing them to sleep in and get out there and use them to have some fun!
If you'd like to share your experiences, suggestions and 101 photos then drop me a line at greig@whenyousurvive.com
Can't wait to hear for you! Have a great weekend everyone.
X
Photo sent courtesy of the beautiful Sean, Lisa, Annabelle and Holly who took this whilst enjoying the beautiful view at Princess Bay in Wellington, New Zealand.
Annabelle is off to University this week so the gang have spent some valuable family time together before she goes.
I had the immense honour of spending Christmas with this beautiful family when I was in New Zealand and they made it one of the most special christmas' ever. New friends and family were made for life.
Love this photo so much. Thank you so much guys. Good luck Annabelle! X