101 Inspiration – Lena Wappling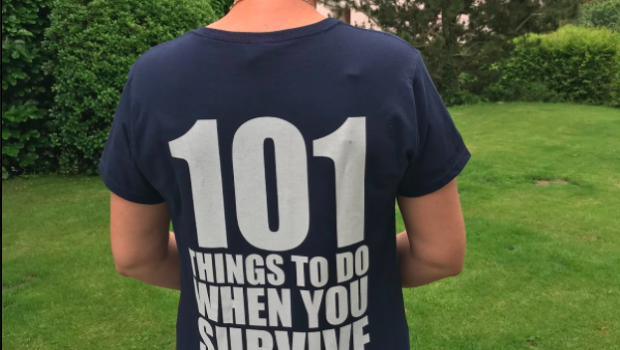 101 Inspiration – People 
Lena Wappling – Switzerland 
My name is Lena and I am a cancer survivor! I was born and raised in Sweden and have lived in Zürich, Switzerland with my husband and our two daughters during the past 6 years. I would describe myself as a positive and optimistic person, who has always been good at enjoying my life.
Just before Christmas 2017, I was diagnosed with stage 4A of ovarian cancer. Cancer came as a shock and going through cancer treatment has been like a roller coaster ride both physically and mentally. Some days have been wonderful and others gloomy.
When I had done a few cycles of chemotherapy, negative thoughts started to take over my normally positive state of mind. I felt scared of what would happen, if treatment would be successful, if I would survive and for how long. Earlier I had been good at staying strong and being optimistic about the treatment results and my future. My inner drive and positive mindset was suddenly not enough to handle those negative thoughts. I felt I needed to do something differently. When looking for inspiration, I found Greig Trout's website. Greig is a two times cancer survivor and he found that having things to look forward to, and proactively working towards them, was imperative to him surviving cancer and the psychological effects that came with it. I decided to make my own Survival List and have been ticking it off ever since.
Right now, I am in the recovery phase after winning the first round against my cancer. Physically I feel stronger and stronger. However, my mental recovery is lagging behind. All my energy was spent on fighting cancer and there was simply no energy left for dealing with psychological aspects during the immediate stage with surgery and chemo. I know it will take time to handle the mental effects and have decided to allow myself all the time it will take. I am optimistic about the future and continue focusing on the important things in my life: family, friends and My Survival List!
If you want to know more about my journey, check out my blog Cancer Survival What's Next? 
Support the charity Macmillan by ordering a survival T-shirt via Greig Trout's. Completed, see link ????
Write a cook book
Learn to play the saxophone
Celebrate my belated 50th birthday by inviting good friends for champagne. Completed, see ????
Enjoy the view by the lake at our summer house in Sweden. Completed, see ????
Drink champagne with my good friends Tina and Marie-Louise. Completed, see ????
Do something simple and fun every week with my husband, such as going to the theatre, a restaurant, a museum or see a movie
Enjoy Österhagen's ice cream in Hjo, Sweden
Treat myself with massage at least once a month
Go on a fitness/training trip
Do one of the most beautiful hikes in Switzerland the "Gratwanderung" in Stoos. Completed, see ????
Have Afternoon tea and go shopping in London with one of my daughters. Completed, see ????
Go on a safari in South Africa with one of my daughters
Celebrate "Kanelbullensdag" (Cinnamon bun day) with my mom. Completed, see ????
Ski in the Dolomites
Go on a "girls" weekend with Lotta and Ulrika. Completed, see ????
Go on a "girls" weekend with Else and Maria. Completed, see????
Visit Sanremo with my sister. Completed, see ????
Celebrate New Year's Eve 2018 with my parents on the Canary Islands
Give Yoga a true chance. Completed, see ????
Learn more about my current home country: Switzerland by visiting the National Museum
Join my friends: Karin, Johanna, Niclas, Hasse and Patrik on our yearly skiing trip
Do more "crazy" and spontaneous activities
Start using the Christmas gift, I had bought to myself. Completed, see????
Go to a concert with a world-famous musician. Completed, see ????
Visit the Galápagos Islands
Practice Gratitude Everyday – will be forever ongoing ????
Do volunteer work
Participate in Ruter Dam class of 2008's 10th anniversary. Due to surgery not possible  ????
Visit Yellowstone national park
Ski in North America
Visit Canada
Explore New Zealand
Enjoy a Bentobox in Japan
Restart my golf career
Enjoy a summer picnic in the Swiss Alps, Completed, see ????
Do a cancer rehabilitation to improve physical and mental strength
Visit Sweden International Horse Show with one of my daughters
Participate at the yearly Ginger bread baking party in Nävlinge, Sweden
To be discovered
To be discovered