BEN NEVIS AND WILD CAMPING IN THE SCOTTISH HIGHLANDS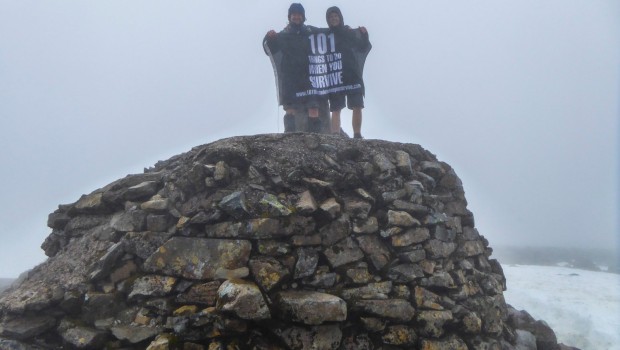 Ok gang, i'm very much hoping this will not only inspire overseas visitors to put Scotland on their list but also inspire a few fellow Brits to realise that a little bit of heaven is right on our door step.
Thing number 39 on my list was to climb the mighty Ben Nevis. Although not particularly recognised as one of the more epic mountains in the world this is still one hell of a hike and if you're very lucky with the weather, the views of the highlands (i've been told) are absolutely breathtaking.
The best thing about this entire adventure was that I was sharing it with my big brother. We don't often do things like this together so this was a rare treat and hopefully the start of many treats like this to come. The tragic events in both London and Manchester were again a reminder that life can be very short indeed.
BEN NEVIS
We started our adventure at my brothers house in Maidenhead and with a quick lunch stop at my mum and Dad's caravan which is just over the border near my home town of Annan, we arrived at Glen Nevis campsite in Fort William 12 hours later. This campsite was unbelievable. Extremely cheap, amazing facilities and for those who are not fans of tents, there were even little wooden 'pods' to sleep in.
Glen Nevis Campsite is right at the foot of Ben Nevis so the next morning we were up early and set off to conquer the highest mountain in Great Britain. The climb to the top is via a pretty well trodden and in some places a well constructed path, so there was very little danger in getting lost.
Within a couple of hours we were up in the clouds and sadly that was it for our view for the day.
We set off in our shorts which seemed like a great idea until we were almost at the top and encountered a whole load of snow and wind. After a little over 5 hours we reached the summit to be greeted by even more snow, rain, wind and a whole load of cloud.
If i'm honest I absolutely dread any uphill walking. My blood clots make it difficult for my blood to get from my legs to my heart and together with my lack of training it can often make things like this quite a slow and at times, painful process. But once you get to the top it is the most incredible feeling in the world.
When we reached the top I gave my brother the biggest hug and thanked him for being so patient. He is an incredible athlete and has climbed mountains such as Kilimanjaro, Mont Blanc and Cotapaxi so this was a piece of cake for him but he was so patient and kept me going throughout.
It took a little over three hours to get down so the whole thing took about eight and half hours. I was totally knackered by the time we got back to the campsite but as we looked back my brother said "it always amazes me just how far your legs will carry you". It's so true.
WILD CAMPING
Now this turned out to be the absolute highlight of the trip.
We woke the morning after Ben Nevis to clear blue skies and a forecast of sunshine and 26 degree heat.
What a contrast to the day before!
The Knoydart Peninsula is regarded as one of the most remote and beautiful Glens in Scotland and this was where big bro and I had the pleasure of spending a few days.
Located around 45 minutes from Fort William we parked the car at the end of the road at Glen Arkaid and hiked up into the valley for the next 6 hours until we found the perfect spot to pitch up our tent. This place is super boggy so suitable places to pitch a tent were few and far between but this was better than we ever imagined. Complete with a beautiful view and located right next to a stream, it was absolutely idyllic.
There are a number of Munros (mountains over 3000ft) to climb in this areas, with the most famous probably being Sgurr na Ciche. Sadly the day I tried to climb this my legs gave way and I just couldn't get them going again. So I headed back down the mountain whilst my brother climbed to the top.
As you can see from the photos my brother took, the view was absolutely sensational. I would have been even more disappointed with not getting to the top had I not spent the day sitting in the stream and reading my book in the blazing sunshine. I don't think I've ever experienced 28 degree heat in Scotland before but there it was. Just incredible!
The days rest did me good because the following day was another full on day's hiking. The main rules when wild camping are to respect the environment and leave without a trace so we packed up our stuff and said goodbye to some of the most stunning scenery I have ever seen.
We only met a handful of people during our time there so if you go on your own make sure you tell someone where you're going as there is no phone signal up there.
DIFFCIULTY
I would definitely recommend attempting both the climb and trek when fit and well. After my legs gave way on the third day it was clear that I should have done a lot more hill training. My muscles really weren't ready for continuous days uphill walking, especially with my pack on. I managed it but my legs have taken a long time to recover.
If you do visit then make sure you go fit and well, and be prepared to be blown away by the awe inspiring scenery.
Happy walking gang!
X