THE TROUTS TAKE ON BERLIN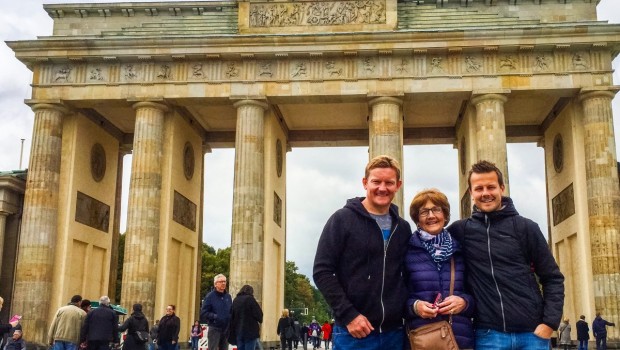 I've wanted to visit Berlin for such a long time and I got the chance earlier this year but as it was for work I didn't get to see anything at all.
So when the Pharmaceutical company Roche asked me to go and speak at a conference over there I cheekily asked if they wouldn't mind delaying my return flight home so I could do some sight seeing.
My mum has always wanted to go to Berlin so I asked her if she fancied coming to meet me and when I told my brother we were going he also jumped at the chance. Sadly my dad couldnt make it otherwise it would have been a complete family affair.
We don't often go on trips like this as a family so this was a rare treat.
I met so many amazing German people on my trip I immediately fell in love with Germany without even going there.
There is so much to see in Berlin. It's not the prettiest city in the world but it's packed with character and it's history is beyond belief.
The highlight was without doubt spending some quality time with my family. We ate, we laughed, we chatted and we walked….a lot… but In-between all of this we also saw some incredible sights.
Here are a few which make Berlin a worthy addition to your anti-bucket list:-
BERLIN WALL
There are parts of the wall located all over the city but our favourite part was the EAST SIDE GALLERY which consists of a mile long stretch of all which is the worlds largest open air mural collection. Over 100 paintings which help describe the nations euphoria when the wall finally came down. It's quite surreal to think that this wall once separated an entire city.
BRANDENBERG GATE
The idea for this incredible gate was conceived when the artist visited the Acropolis in Athens. It's amazing in the day but even more incredible at night. At the weekends illuminations are projected onto the gate which literarily took my breath away. Have a look at the video further down on this page to see it in action.
HOLOCAUST MEMORIAL
It is difficult to describe how it feels walking through this maze of concrete blocks but you cannot help but feel moved by it. The memorial covers the area of a football pitch and consists of large concrete blocks at different heights designed to to produce an uneasy, confusing atmosphere, and the whole sculpture aims to represent a supposedly ordered system that has lost touch with human reason.
As I walked through in silence it was hard to grasp how 6 million people could have been murdered for doing nothing more than being Jewish.
THE REICHSTAG
This incredible building is the used as the German seat of Parliament. It's been burned, bombed and damaged throughout the years but it's risen from the ashes and is a must when in Berlin.
The famous glass dome is something of architectural genius and blew us all away. You can walk right up to the top.
Best of all were the 360 degree views of Berlin from the roof.
THE JEWISH MUSEUM
Both heartbreaking and inspirational. This incredibly designed museum is an education in Jewish history.
It's is packed with real life artefacts each with their own story. Many of the stories are heartbreaking but one which warmed my heart was that of jeans maker Levi Strauss. See pic to read story.
We stayed in Berlin in for two and half days which was a good amount of time to see the main sights.
There is still so much more to see and do so maybe add on a day or two to fit it all in.