THE PRETTIEST VILLAGE IN ENGLAND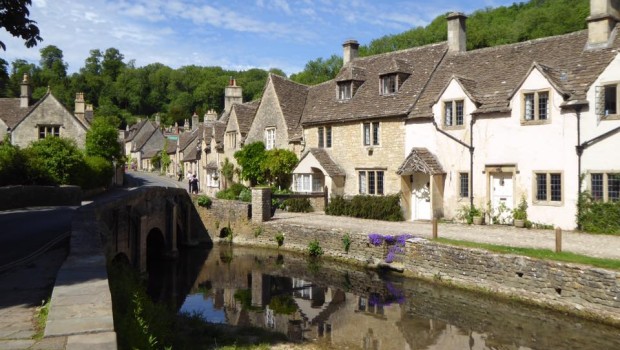 Here is a wee place you might want to add to your list of things to do this summer.
The little village of Castle Combe in Wiltshire has to be one of my most favourite places in the world and one I'm sure many of you will be flocking to once you see these photos.
Often referred to as the 'Prettiest Village in England', it has retained the classic customs and charm of yesteryear. The village is packed full of chocolate box houses, picture postcard views at every turn and country pubs for a good old British Sunday roast or a spot of afternoon tea. There's even an unmanned cake stand outside someone's house that runs on pure honesty.
Some of you may recognise the village from both the small and silver screen having been featured in movies such as War Horse, Stardust, Dr Dolittle and most recently, the legendary Downton Abbey series….yes, I was a fan!:)
On a beautiful summers day like this one last year, Castle Combe feels like paradise. The village houses are stunning but my favourite place is the Manor House hotel gardens.
Castle Combe is located just down the road from the village where my parents live so when I was at their house recuperating from my bowel operation we would sometimes go there for a little walk and a cuppa.
It's so beautiful and peaceful, and when sitting up in the terrace gardens over looking the valley and the Manor House, your problems feel like a million miles away. There are also lots of walks that lead off into the surrounding countryside so take your walking shoes and have a wonder.
There are a couple of guest houses there and the Manor House hotel rents beautiful little cottages if you want to stay over.
In the winter you'll see the smoke coming out of the chimneys and the mist making its way up the valley. Absolutely magical!
I hope you all get to visit one day.
A huge thank you to my parents for hanging out with me and being my models for the day. I especially love the 101 pose at the Manor House. 🙂
X