A 'WEE' HEALTH UPDATE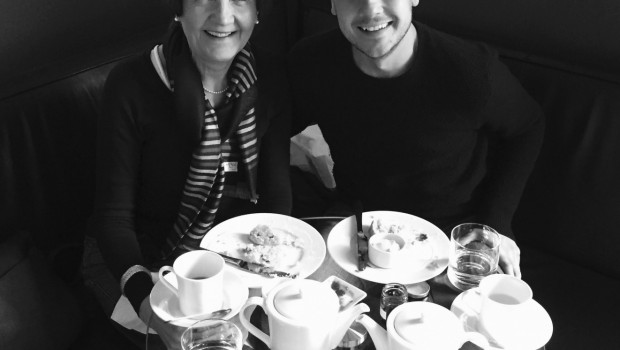 I thought I would just write wee update for you guys after posting that unglamorous photo of me in hospital the other week.
After two ultra sounds, one CT scan, numerous blood and urine tests and a procedure involving putting a camera down something where no camera should ever go, it turns out this machine like battered body of mine is still fighting fit and ready for action.
Feeling unwell and being told you have blood in your urine doesn't bring out the most relaxing emotions in the world, especially since the last time I found blood my urine it turned out I had stage 4 cancer so you can imagine just how relieved I was to find out that all these tests were ok.
The docs think I may have had an allergic reaction to some cold and flu mediation which caused damage to my stomach and bowel and as result the mixture of dehydration and the blood thinning medication I take led to a bit of internal bleeding.
I usually go to my hospital appointments on my own but I wasn't too sure what my last procedure would show up so I took my number one girl with me for support, my wonderful mum.
Despite my nether regions stinging like a swarm of angry wasps just had a party in my pants, I still maintained my tradition of treating myself after any such hospital appointment and took mum out to celebrate.
After being told that my blood, kidney, wee, bladder and liver were all looking 'normal' (I love that word), we headed to Harvey Nichols in Bristol for a cheeky scone and a cuppa and had a good old natter about everything under the sun.
I always wonder if people think I need to do big exciting things to treat myself after a 2 year world trip around the world but I can assure you tea with my mum out trumps all of those things on my list on my list.
On my return to my mum and dad's house I was greeted by my wonderful smiling dad who was so happy and relieved to hear my news. I'm not entirely sure how they've coped with having me as a son all these years but they are without doubt the strongest people I know. I certainly don't think I've helped their blood pressure though!:).
After my grilling of the A+E doctor who saw me at the hospital I think it only right that I commend the care I've had since then.
My specialist nurse, Jacquie, upon hearing news of my wee, immediately arranged a CT scan for me and I was seen in double quick time. My GP, Dr Paxton was calling me at 8:30pm to give me updates on tests and results he'd arranged and couldn't have been more helpful and as ever my cousin was on hand (a specialist cancer nurse) to reassure me and answer all of my questions, like she always does.
I've been seeing health professionals since I was 7 years old and I can safely say that we are so very lucky to have the national care that we do here in the UK. A huge thank you to all of the NHS doctors and nurses who have helped me out this year (excluding the a+e doctor who I still think was rubbish).
I just want to say a huge thank you to you guys for the wonderful support you've shown me since both starting this blog and since I mentioned I was in hospital. I was inundated with lovely messages of support and I can't thank you enough.
There is not a day that goes by where I don't consider myself to be the most fortunate person on the planet and if I could transfer some of this good fortune onto to those of you who are unwell then I would do so in heartbeat.
Love and well wishes to you all.
X
PREACHY CORNER
If you think somethings not right with your body, don't wait to find out what it is. Go and see your doctor immediately. Early diagnosis helped save my life last time.