Black water rafting in the Waitomo Caves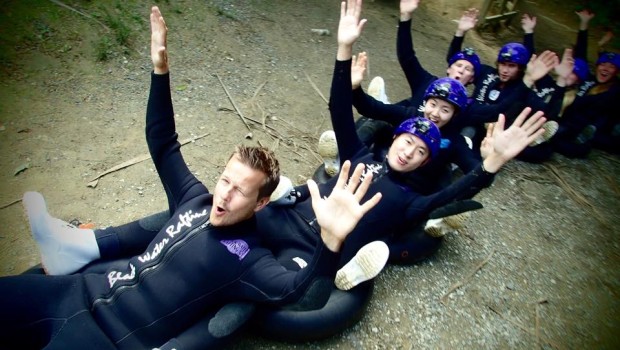 Let me start by saying that this has to be one of the most fun things I've done on my trip so far. My big bro told me about this when I started writing my list and when he described it I had trouble fully understanding just how it would work. Rafting in a cave? Surely this is some kind of death trap!
The word Waitomo comes from the Maori words 'Wai' meaning water and 'tomo' meaning hole or shaft. The caves are famous for the beautiful glowworms that live there. These glow worms are actually the larval stage of an insect called the fungus gnat. These insects naturally produce light from a series of small tubes which come out of the glowworms bum as a byproduct of excretion. These tubes hang down from the ceiling and the light attracts insects which then get stuck in the tube and the glowworms suck it up and dinner is served! It sounds a bit disgusting but it is one of the most beautiful sights I have ever seen.
There are literally thousands of Glowworms in the Waitomo caves. When you go black water rafting you get a wetsuit, a helmet, a rubber ring and you jump and float yourself along a series of underground rivers and waterfalls with the glow of the worms hanging over head. Fear not! This is nothing like white water rafting. It is very safe and is only called black water rafting because you are in a cave in the pitch black.
My favourite part of this whole experience was near the end of the tour when the group all sit in their rubber tubes, everyone turns their lights off and links together and the guides slowly pull you through the water in complete silence. The only thing you can see are the hundreds of glow worms up above you. It was one of my most favourite experiences ever. Sadly you are not allowed to take a camera with you for health and safety reasons so I've stolen a few of these images from the Internet so you can see what it looks like in the caves.
There are lots of different types of tours you can do here which also include abseiling and rock climbing. I went for the cheapest option (The Black Labyrinth Tour with Legendary Black Water Rafting Co) and fortunately this had everything I wanted anyway so I didn't feel like I had missed out on anything by going for the cheapest.
I would definitely consider adding this to your list. It's like nothing I have ever experienced before and I loved every second. Excitement fun and nature! Perfect!
I loved this so much I then ran (hobbled) up the hill afterwards to the main and probably most famous of the Waitomo Glowworms caves where I just caught the last tour of the day. The fact it was the last tour of the day made even more special. There was only a few of us as all the big tour buses had left which made it even more magical and it felt as if I was on a private tour. There are no cameras allowed in the caves so again I've stolen images from Google so you can see what it looks like inside.
The main cave known as Cathedral Cave and absolutely breathtaking. Packed with Stalactites and stalagmites the cave is famed for its amazing acoustics and has even had legends like Rod Stewart perform there.
The Maori tour guide turned off all the lights and sang 'Amazing Grace' in Maori. He claimed he wasn't much of a singer but it was one of the most beautiful things I've ever heard. It was one of those moments where I had to pinch myself to make sure I wasn't dreaming.
We then walked through the caves and got on a boat which floated along the underground river and this time instead of 100's of glowworms we were treated to 1000's of Glowworms which literally lit up the cave.
You should definitely add these to your lists gang. The black water rafting is pretty cold so maybe wait until you're fully fit before doing this one but the dry tour around the caves is perfect for everyone. Just make sure you go at the end of the day.
Thing #40 – Black Water Rafting in the Waitomo caves – Tick!:)
X