An unforgettable trip to brisbane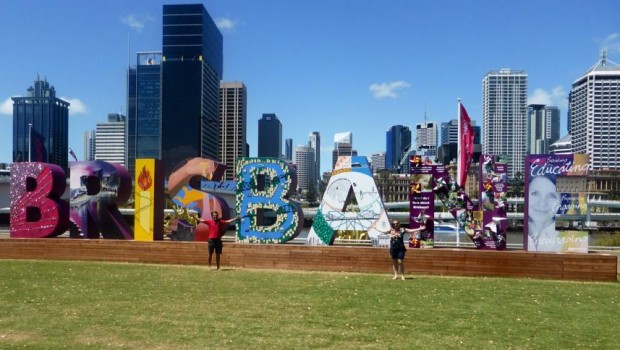 Some of you may remember me talking about two very brave children called Claire and Tommy earlier on in the year. Claire was 9 years old and suffered from brain cancer. Claire's mum and dad, Lynette and Robert have been following my journey for sometime and Lynette would read Claire my blogs. Sadly Claire passed away in earlier this year. Although I had never met Claire or her family I was devastated when she died. Lynette and I would email regularly and I really felt I knew Claire. It was because of this little girl that made me realise that I no longer want to achieve Thing #4 on my list which was to have an entire day where I didn't think about cancer. Claire's passing made me realise that I didn't want to forget about having cancer, I just didn't want to be afraid of it anymore. I wanted to be grateful for having survived it.
Tommy was a gorgeous 6 year old boy who suffered from T-Cell Lymphoblastic Lymphoma. I was asked to support Tommy's big sister Caitlin who was shaving her head to raise money for the Australian Leukemia foundation. On the 12th March Caitlin shaved her head in Brisbane and I had mine shaved in a little town in Chile. Caitlin raised around $25,000. She is an amazing young lady. Tommy sadly passed away and yet another family has been left devastated from this awful disease.
On Tuesday I had the immense honour of having dinner with the families of both Claire and Tommy. Lynette and Robert kindly let me stay with them and Lynette organised a lovely dinner out with Tommy's mum Cheryl, step dad Tim and my head shaving partner Caitlin.
It was a very lovely and humbling evening. Both sets of parents still coming to terms with the loss of their children and trying to cope in the best way they can. I know I have experienced cancer but I cannot even begin to imagine how painful it is to lose a child at such a young age. My lost words were limited to 'I am so sorry' upon meeting them. I don't think there are any words that can even remotely help take away any of the pain. It was lovely to be able to give Cheryl and Caitlin a big hug. They are both just as wonderful as I had imagined.
These wonderful people are going through so much but they welcomed me with smiles and open arms. I felt very honoured to be in their company. As ever it seems cancer prays on the families of good people. I don't know why it does that.
Caitlin's hair is now growing back nicely and she looked absolutely amazing when I saw her.
On Wednesday Lynette showed me around beautiful Brisbane and we took the ferry boat up the river and walked to the Southbank where a artificial beach and pool have been built. It looked absolutely amazing with everyone lazing on the beach in the middle of the city.
I also got to see a couple of friends who I first met in Nicaragua last year. Mim invited me to her parents house and to meet her sister Tess and friend Ali. It was lovely to see her and Moe again. Another reminder of just how many wonderful people I've met on my trip.
On Thursday Robert, Lynette and Liam treated me to a trip to visit the third largest sand island in the world. Moreton Island is just off the coast of Brisbane and is absolutely beautiful. Robert couldn't come with us unfortunately but Lynette, Liam and Liam's friend Ryan got the ferry over and went sand boarding (sand everywhere!), snorkelling around ship wrecks and we fed the dolphins at the end if the day which was incredible.
It was a lovely day but this was also the first time Liam and Lynette had been there without Claire. Despite their brave faces I know how hard this was for them. I hope our time together managed to distract them for even just a moment.
I absolutely loved spending time with them. Liam is a great lad and he's taught me all about Anime and the fact you can win up to $11million playing computer games! Wow! I've been in the wrong job!:) Lynette and Robert are such beautiful people. So generous and caring and they have treated me like family.
Lynette has set up a wonderful fundraising initiative called Cupcakes for Claire where she makes and encourages others to sell cupcakes and raise awareness about childhood and brain cancers. Funding is less than minimal for brain cancer so it needs all the help it can get to find better treatment. All proceeds go to the cure brain cancer foundation. For more details please see here:-
https://www.facebook.com/CupcakesForClaire
I would just like both families to know that there is not a day that goes by where I don't think about both Claire and Tommy. I'll always be there for you all in the future.
A huge thank you to Robert, Lynette and Liam for making me feel so welcome and allowing me to be part of their lives. My love and thoughts are with you all.
X