An amazing day in Oz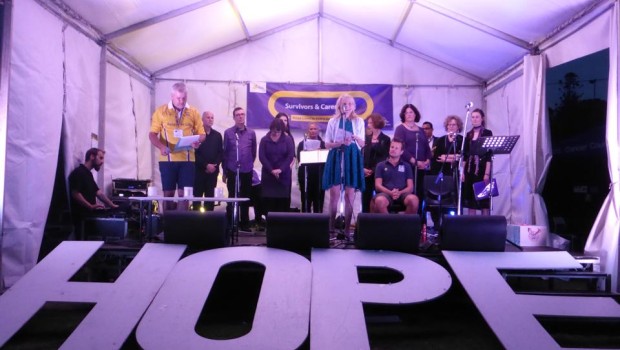 I was asked by the amazing people at Cancer Council to give a short speech at their relay for life event on Saturday. I expected to pop in there for a couple of hours, say a few words and chat to some people afterwards but 12 hours later I found myself still there and having the most amazing time.
This event wasn't what I thought it was going to be. I thought it would be primarily focused on the 24 hour relay around a track but it was so much more than that. This was a wonderful community event where people from all walks of life came to celebrate life, encourage hope and remember those that have been lost.
I gave a chat in the survivors and carers tent in the morning and another chat later on in the day. I told of my experiences with cancer and PTSD and that I had learned that there is hope for us all.
There were so many different activities going on throughout the day; A thai chi class, swing dance lessons, a chiropractors tent, a petting zoo, a bouncy castle (so much fun) and lots of bands and singers who performed all through the day. There were also two local politicians answering questions on how the government is tackling cancer and a wonderful speech by a leading oncology expert.
I also took part in a beauty pageant where I finished in an amazing third place….out of a total three people ! I couldn't argue, the other two looked far better in dresses than I did. There were also three young lads there who all had there head shaved and raised over $1000 in the process. Amazing!
The highlight of the day though was the candlelight ceremony of hope where everyone comes together to remember loved ones and support those still fighting cancer. Electric candles are lit and put in bags with a message of hope written on the outside.
It was beautiful to see everyone carrying their candle bags of hope around the track in the Sydney moonlight. I was asked to sit on the stage and to light one of three candles which represent hope, survivors and carers and remembrance.
There were readings, a choir, a singer and a speech by the most incredible woman. Alison has been battling ovarian cancer for 7 years now. She was given a terminal diagnosis but thanks to new treatment she is still here, still fighting and one again loving life. She told me that cancer is the best thing ever to happen to her. She said how it changed her whole life and has helped her appreciate life even more. I was extremely overwhelmed to be in such inspiring company.
Many people camped out for the night and continued the fun and the walking until 10 o'clock the next day.
A huge thank you to the cancer council for letting me part of their wonderful world. These guys are dedicated to the defeat of cancer and raise money for research, prevention and support. They have been instrumental in improving the lives of many Australians via their campaigns. I loved them even more when I found out their motif is the 'daffodil' which represents hope. Hope is my most favourite thing in the world. Hope can achieve so much….love, happiness, optimism and a belief that anything is possible. I hope when you read this it finds you all well and filled with hope.
"Hope is a good thing, maybe the best of things and good things never die"
The Shawshank Redemption
X
Cancer council Facebook page-
https://www.facebook.com/cancercouncilaustralia