An evening with Shine Cancer Support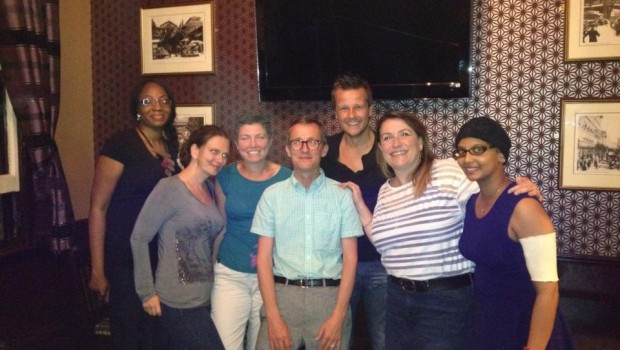 On Tuesday night I was invited to chat to the wonderful people at the Shine Cancer Support group in London.
Shine Cancer Support are a charity which provide tailored information and peer support for anyone in their 20s, 30s or 40s diagnosed with any cancer. They do this through a range of activities including lunches and drinks evenings, beach walks, multi-day getaways, workshops, online networking, and mentoring.
We all met up in a pub in Covent Garden and I told the gang about my experiences with cancer and PTSD as well as a wee trip is just been on. We had a lovely time and I met people who are currently fighting cancer, some who have beaten it and some who had recently been diagnosed.
During my chat I confessed that even as someone who's been through cancer I often find I don't really know what to say to others who are currently fighting it. Do I say something inspiring and profound? I think many people feel like that but we discussed it and we all agreed that the best thing you can do is to just listen. Sometimes that's all we need to help us through the dark times. I know that's what I needed.
I met some amazing people that night and I think this is a wonderful way of helping people cope with the effects of cancer.
During my worst period with PTSD I found I felt very alone. It was difficult for people to understand why I was going through this as the doctors had told me I was better and that the cancer had gone. Unfortunately at the time my mind chose not to believe that fact.
As I told the gang of my experiences with PTSD I was met with many nodding heads and expressions of 'I know what that's like'.
I would have liked to have gone to one of these events during my cancer as an adult. Sometimes it's just nice to be around people who just 'get it' so you don't feel alone or that you are losing your mind.
I was really honoured to have been asked to attend one of their get togethers and speak of my experiences and my 101 trip. It was all very informal and I saw lots of smiley faces and laughter as I sat taking it all in.
If you are keen to find out more then please take a look at their website for more details. It's lovely to know that you are not alone in this fight.
http://www.shinecancersupport.co.uk/Pages/AboutUs.aspx
A huge thank you to Shine for having me and I look forward to seeing you all when I get back next year.
X