The return to Richmond Hill… and an invitation!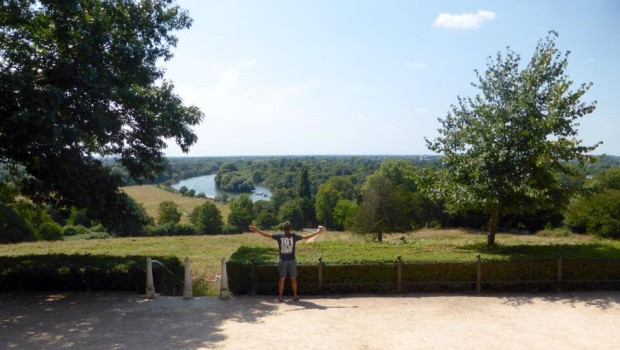 Richmond Hill is my most favourite place in London. The view is absolutely beautiful and it's just a stones throw from the magical Richmond park where the deer run around completely oblivious to the fact they are in one of the biggest cities in the world.
During and after my fight with bowel cancer, Richmond Hill was both my favourite place but also my nemesis.
I could never get to the top without having to stop 2 or 3 times. I found it so difficult that I would be out of breath and be as white as a sheet once I got to the top. 6 months after my chemo finished I was still the same and I couldn't understand why I wasn't getting any fitter.
The reason I discovered I had bowel cancer was because I was progressively getting more and more tired. As a result I associated tiredness with cancer.
This hill constantly reminded me that I wasn't well. I used have to walk up the hill quite often as my brother and his wife lived at the top. I would often go to the top just to sit on a bench and watch the sun go down. I was so lucky to live there during my illness as I found being around nature so therapeutic. As I started to feel better I would often do this with a cup of hot chocolate. Probably one of my most favourite things in the world.
I just couldn't understand how after 6 months after I finished chemo and supposedly being 'cancer free' I still couldn't walk up this hill without having to stop. I'd read books about people doing marathons and tough guy events during and not long after chemotherapy so I couldn't understand how I couldn't walk up a small hill.
Just before my TV interview on Wednesday my mum and I took a walk up Richmond hill. Because I was with my mum we were chatting and before we knew it we were at the top. I even had to slow down so mum could catch up. The amazing thing was that I didn't even feel like I was walking up a hill. It just felt flat and easy.
The reason I share this story is that a couple of years ago I was convinced I would never get my energy back and now I'm off climbing volcanoes and riding across American states. I couldn't even dream of doing that a couple of years ago.
If you have had an operation or have recently been through chemo then please know that your energy and strength will come back, I promise you. It may seem like it will never return but it will, it just takes time.
Please don't do what I did and beat yourself up about it. I was so frustrated with myself when I eventually got to the top of the hill because I was convinced my body was weak and annoyed that I had turned into a tired old man way too early in my life.
All my body needed was more time to heal and recover from a major operation and what is without doubt the nastiest medication in the world, chemotherapy.
There was a time I used to look at mountains and think WOW, I wish I could climb that. Now I look at mountains and think, Wow…I wonder how long it would take me to climb that!:)
You'll be thinking the exact same thing soon!
An invitation
Thing #62 on my list is to return to the UK in September 2015 when my trip is finished and enjoy a cup of hot chocolate on Richmond Hill whilst watching the sun go down.
A while back I invited you all to join me for what is one of the most special Things on my list. With you guys there to share it with it will make it the most wonderful experience ever.
I can't wait to meet you all and walk to the top of that hill together where we will sit back with a hot choccie and be grateful for all that we have in that very moment. Maybe we can even start making a new list together!;)
I can't wait to see you all there in 2015!
X