The Hole in the Wall Gang Camp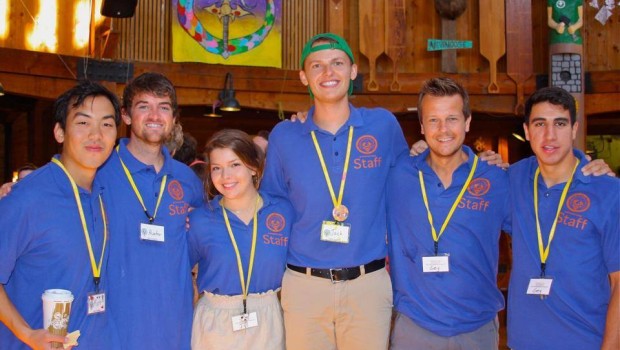 I've just finished my weeks volunteering at the most wonderful place I think I've ever been. When I sit down to write I can usually fill the page with all the feelings and emotions I have experienced in a matter of minutes but I'm honestly struggling to find the words to do this wonderful camp justice.
As you already know this is a camp for seriously ill children and the reason I came to the states. I'd heard so much about this camp before and during my time in the states and everyone I met spoke about it in such a passionate and inspiring way.
This place was even better and even more magical than I could have ever hoped for.
I volunteered in session 6 of the summer program which was the session for children with sickle cell disease. I was placed in a cabin of 8-10 years olds who were the funniest and loveliest bunch of characters I've ever met. They were also exhausting! I don't think I've ever given as many piggy back rides in all my life and I also didn't realise that children run…everywhere!:)
The camp offers week long sessions for children with various serious medical conditions including HIV, cancer and Sickle cell. I knew very little about Sickle cell disease before being told that that was the session I was assigned to. If I'm honest I had hoped for a session with children with cancer as that's kind of my speciality but I am now so glad I was involved in this session. I intentionally left the word 'cancer' out of the name 101 Things to Do When You Survive because I wanted it to be for anyone who was going through a difficult time in their life, not just those with cancer. This gave me an opportunity to learn about another serious disease and the brave people who battle it on a daily basis.
Sickle cell disease is a hereditary blood disorder where red blood cells assume an abnormal, rigid, sickle shape. This makes blood flow difficult and can result in various acute and chronic complications which and can result in a shorter life expectancy.
One of the main issues of sickle cell disease occurs when the kids get cold and the bloods flow is disrupted. Most swimming pools are too cold for the kids to swim in but the camp's pool is heated to a temperature which allows the kids to swim safely without getting too cold. For many of these kids it's the only time they get to swim and I wish you could have seen their faces when they were in the pool. They absolutely loved it and many wanted to be in the pool everyday. If the kids get cold there is a little hut called the 'fryer' which is heated up so they can warm up fast.
The camp really is a safe haven for these kids to play, have fun, make friends and be loved and accepted. They are surrounded by other children who are going through the same things as them and they have the most amazing counsellors who take care of them during their stay. The camp also has an Infirmary which is staffed by amazing doctors and nurses who ensure that the kids are safe and well looked after.
The counsellors at this camp are out of this world. Their job is to ensure that the kids have the best time possible and learned so much from them all. They work their socks off and the kids absolutely adore them.
One night I was woken up by one of the kids having a sickle 'crises' in which they were experiencing severe pain in their back. I got up and called the infirmary and within minutes all my fellow counsellors were up and making sure that this child knew that we were all there for him and that everything was going to be ok. It was so lovely to see. A few minutes later one of the nurses arrived and gave him some medication and I sat rubbing his back until he fell asleep. It reminded me of when my mum would rub my back when I was having chemo when I was little. The little boy thanked me for making him feel better the next day which was the best feeling ever.
These counsellors are truly wonderful. They work at camp for the entire summer and I was in absolute awe of them. Some of the counsellors are former campers and they are now inspiring the kids they used to be. Each one of them saying that camp changed their life.
I would have loved this place when I was ill as a child but if I'm honest I think I would have loved it more when I was ill as an adult. A place to have fun, learn to love one another and forget your worries. Now that's the world I want to live in.
I have so much I want to say about my experience at camp but I'm going to save it for when I have some pictures to show you as well. As you can imagine it is camp policy not to share pictures of the children on social media sites but I've been given some authorised photos to use which I plan to share with you all when I get home.
I leave the states tomorrow with a full heart, new pals and a lifetime worth of memories. This was a wonderful way to say goodbye to the states and sign off the first year of my trip. Thank you to Hole in the Wall for having me at their wonderful camp and keep up the amazing work!
X