What a day! Blood tests, mistaken identity and the wonderful Germans!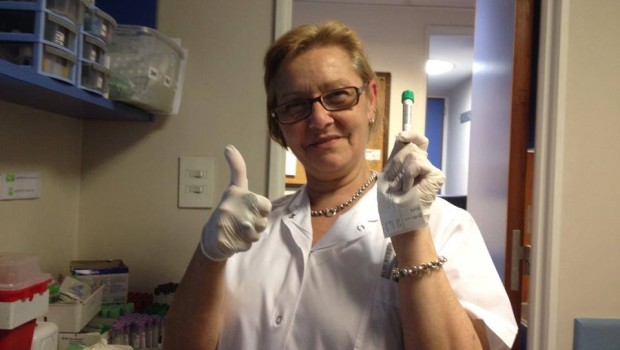 Firstly i just want to thank you all for all the lovely messages and well wishes I received today. You have no idea what it means to me. I've been thinking about them all day and feel very blessed to have such wonderful people joining me on my adventure. Because of you, instead of being worried today I was immensely happy. Thank you from the bottom of my heart. x
Secondly..yikes! What a day. I arrived at the public hospital at 7am and went to the place where I thought I was meant to go. I sat there for 30 minutes and there was not a soul in sight.
I saw what I thought was a nurse folding bandages in a little room off the main corridor (see pic) so I went up to her and told her why I was there and gave her a quick run down of my medical history in my bad Spanish with a few arm movements just for good measure. I basically wanted to know if I was in the right place. She was looking at me really strangely and it was only when I looked down and saw that the bandages she was folding were actually pieces of toilet paper I realised I was in fact talking to the toilet attendant. (Banos is Spanish for toilet. I clearly missed that sign when walking in). Not a good start to my day.
I eventually found out where I needed to be thanks to a lovely receptionist called Sylvia. I then sat on the floor in the corridor for 5 hours waiting to the see the doctor. When I eventually saw the doctor he kindly informed me that if I wanted the results this year I should go private.
So I ran to Starbucks and downed a hot chocolate and a cinnamon roll (treat) and scrolled the Internet for other hospitals. I tried calling he British hospital but there was no one who spoke English…. Maybe they should have a rethink on their name!:)
I couldn't find any other hospitals but then I met a lovely local girl who told me there was a German hospital down the street.
Long the live the Germans! I ran over there and paid $35 and was seen in 30 mins. The nurse looked very optimistic about the results when holding my blood! Results will be ready on Friday!
Fingers and toes crossed X